Member
Grand Prix 250
Main Motorcycle: 2010 Triumph Speedmaster
Join Date: Sep 2012
Location: Sydney, Australia
Posts: 58
Finally got a Speedy.
---
G'day all,
well, after looking around for a while I finally found the bike I've pretty much always wanted - a black and white Speedmaster.
Only got it registered yesterday - love it.
Now I have to sell my 82 Kawasaki KZ1000 LTD.
Peter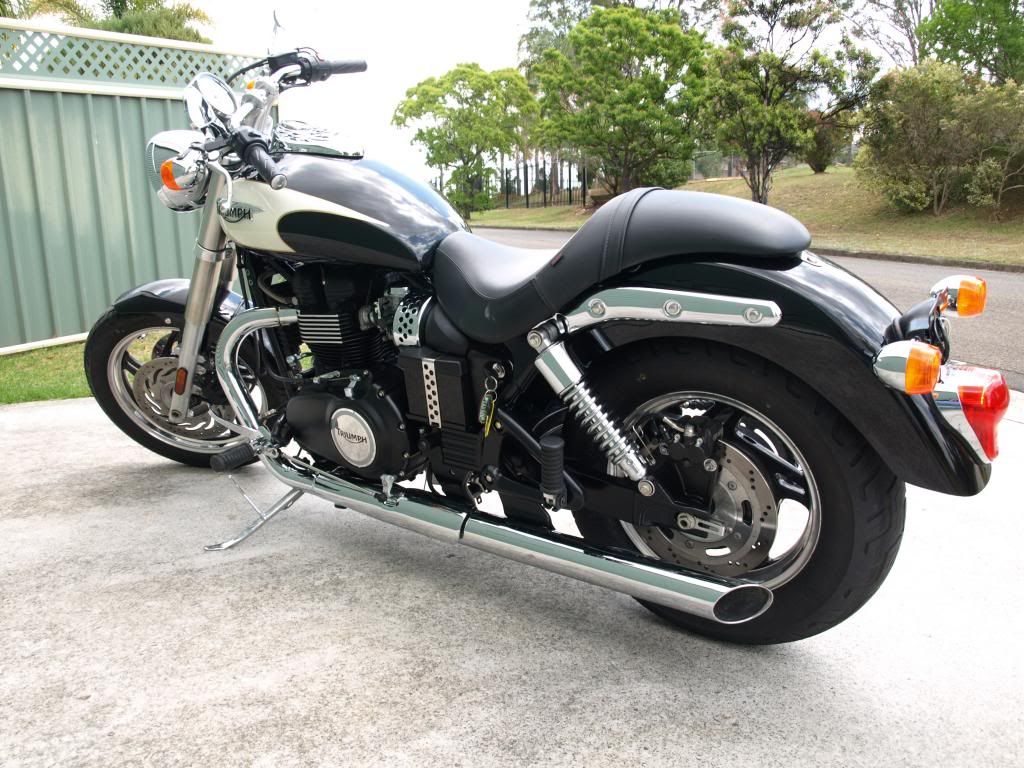 Senior Member
World SuperBike
Main Motorcycle: Bonneville T-100
Join Date: Nov 2011
Location: Wayne County, OH
Posts: 2,137
Other Motorcycle: Trophy SE
That's one beautiful bike!

Congratulations!!!
Lifetime Premium
Site Supporter
Grand Prix 125
Main Motorcycle: Speedmaster
Join Date: Oct 2012
Location: Neptune Beach
Posts: 27
Congrats! Looks awesome two-tone. I love my Speedmaster - enjoy!
Sent from my iPhone using
Motorcycle.com App
Senior Member
SuperStock
Main Motorcycle: 2011 Thunderbird Storm
Join Date: Apr 2012
Location: Madison, WI
Posts: 296
Congratulations. From one Speedy owner to another, you're going to love it.
Member
Supersport 400
Main Motorcycle: Triumph America
Join Date: Aug 2011
Location: Sacramento
Posts: 94
Other Motorcycle: Vespa GT200 & P200's
Senior Member
Powerbike
Main Motorcycle: 2009 Speedmaster
Join Date: Aug 2009
Location: Long Island NY
Posts: 328
Other Motorcycle: 2000 Legend TT
Extra Motorcycle: 2010 Thunderbird
Congratulations and already got the Triumph aftermarket drilled stem teardrop mirrors looks great.
New Member
Production 125
Main Motorcycle: Speedmaster 2009
Join Date: Apr 2012
Location: Melbourne Australia
Posts: 10
Other Motorcycle: Kawasaki ZZR600 - 2005
Congradulations on your new ride.
I have a 2009 model, same colour.
Senior Member
Formula Extreme
Main Motorcycle: 04 Speedmaster
Join Date: Oct 2010
Location: Florida
Posts: 476
Other Motorcycle: 2000 Honda Valkyrie
Darn - that's a good looking bike. I love the two tone black and white paint job -- I've considered having my all black SM repainted a 2 tone scheme and this is pretty much EXACTLY what I'm after. I have a buddy of mine here in town that actually runs a sign painting business, but he does a lot of this type work as well. I'm gonna run it by him and see what he could do with my bike !

Congrats - stay between the ditches !
---
04 Speedmaster and 2000 Honda Valkyrie
I'll gladly pay you tomorrow for a hamburger today !
Senior Member
Supersport 600
Main Motorcycle: Tiger 800 XRx
Join Date: Oct 2012
Location: Malta
Posts: 197
Other Motorcycle: Thruxton 2014
Extra Motorcycle: KTM Superduke GT
Congrats. Really nice ride. My new speedy arrives in about 10 days. I'll post a pics.
Member
Supersport 400
Join Date: Mar 2011
Posts: 94
Posting Rules

You may not post new threads

You may not post replies

You may not post attachments

You may not edit your posts

---

HTML code is Off

---