Grand Prix 250
Main Motorcycle: 2013 Thruxton 900
Member
Join Date: Oct 2012
Location: Tampa, FL
Posts: 50
Maund FEK with modded stock signals
---
I got the Maund kit in the mail Monday. I thought I had ordered the one with indicators built in... but I didn't. My mistake. I was too excited to wait, so I installed it anyway. No trouble there, and the lights work as they should: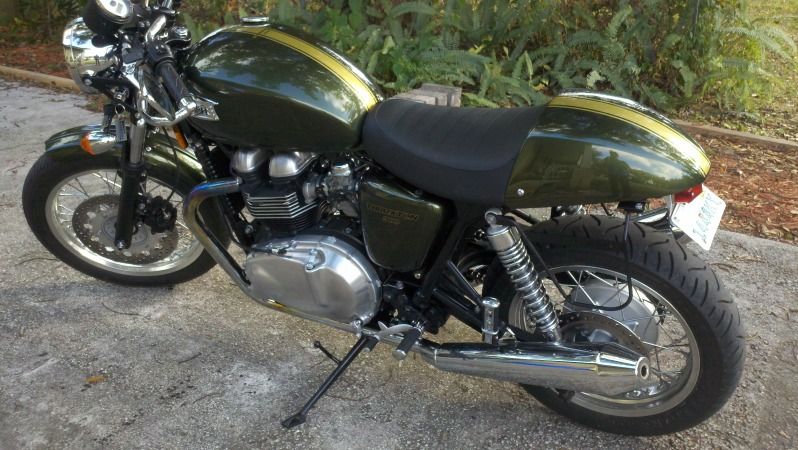 I loved the way it looked, but obviously I needed to add indicators. I liked the look of the Kellerman LED ones, but they were way pricey, and I didn't want to wait. Figuring out a mounting arrangement was a little tricky too. I like the look of the indicators on the shock mounts, but I'm setting up to run two Pelican 1430's on those MCS brackets you see in the pics above. So that wouldn't work. Neither would the NB brackets that use the same mounting area as my luggage brakets. So I decided to see what I could do with some Home Depot hardware and the stock indicators.
I found this very helpful thread (and associated photo-blog):
http://www.triumphrat.net/twins-tech...-diy-pics.html
... and I basically did what D9 did, except I wanted them even shorter, which took a little more dremel work. Here's what I had when done with the first one. The top one is stock: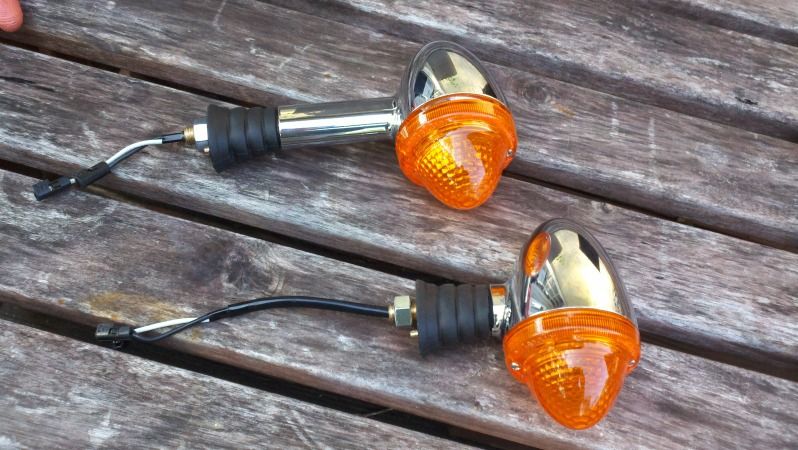 Not perfect, but serviceable. For brackets, I used basic corner-brace brackets, drilled out the holes as needed, and hacked off the excess on one side. The top one is what I started with, the bottom is my finished bracket: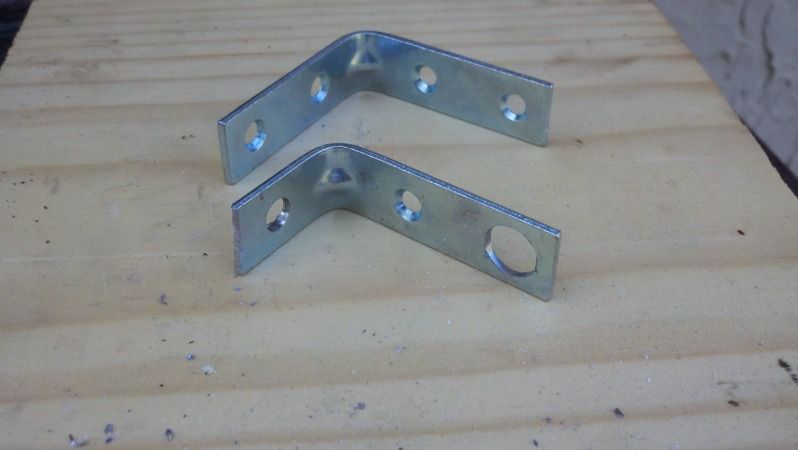 Mounted to the signal: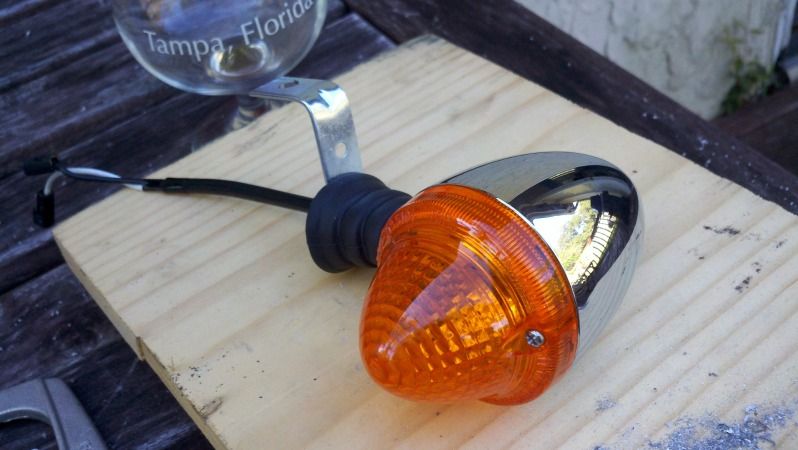 And that's about it... unless you have luggage brackets like mine. I had to bend them after mounting to get clearance. That moved them slightly down behind the license plate, which isn't ideal, but they should still be plenty visible. I trial'ed and error'ed it until it was about even, then tightened things up. The nice thing about reusing the stock indicators, is I just plugged it all back in and it worked, first try:
All buttoned up: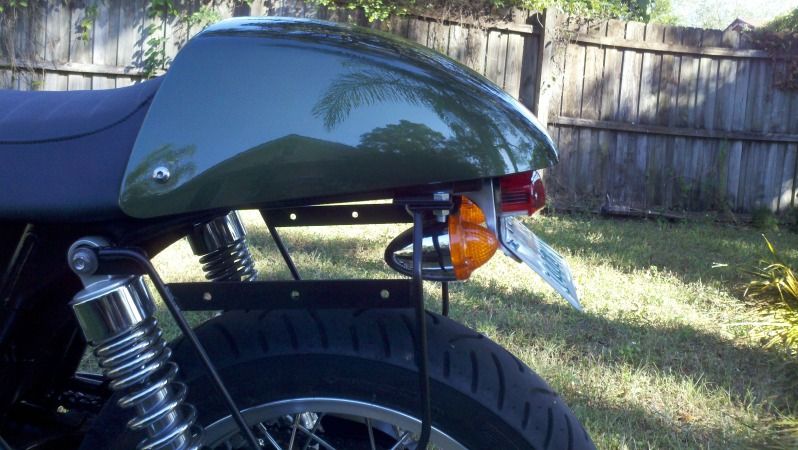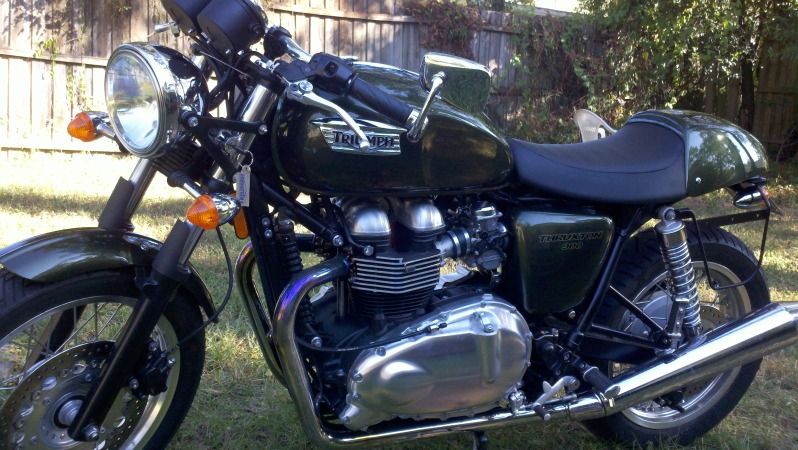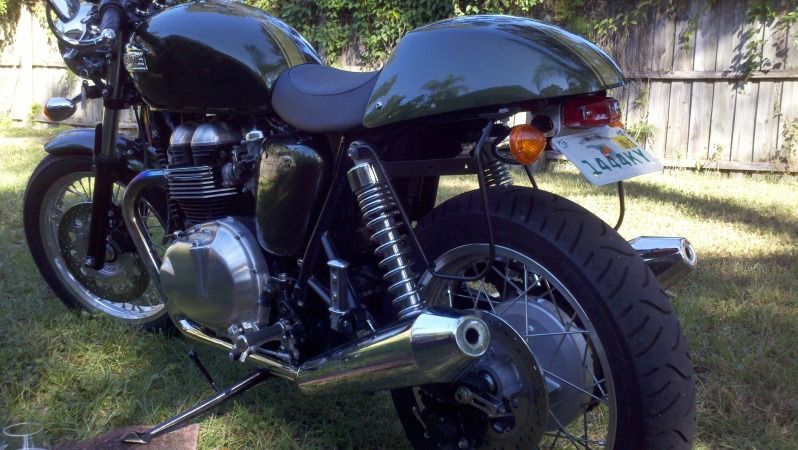 Powerbike
Main Motorcycle: 2012 Thruxton
Senior Member
Join Date: Oct 2011
Location: Wooster, Ohio
Posts: 387
Other Motorcycle: 2003 Ducati M800Sie
Extra Motorcycle: 2001 BMW R1100R-L
You do really nice work. A guy on the Yahoo Thruxton Group suggested that how-to article to me a year ago. I really like the idea, but after reading it several times - it seemed kind of hairy. The guy who suggested it to me originally did both his Thruxton and Bonneville - wrote it wasn't all that hard. Did you have much trouble making the modification?
---
"...I am a Cafe Racer myself, on some days---and many nights for that matter---and it is one of my finest addictions..." Hunter S. Thompson
Grand Prix 250
Main Motorcycle: 2013 Thruxton 900
Member
Join Date: Oct 2012
Location: Tampa, FL
Posts: 50
When I first read D9's how-to, it seemed a little squirrelly to me too, but once I dug into taking the signals apart, it all became clear. It was a really easy mod. I might shorten my front indicators too (but not as short) soon. Do it! It's easy.
Posting Rules

You may not post new threads

You may not post replies

You may not post attachments

You may not edit your posts

---

HTML code is Off

---