Lifetime Premium
Site Supporter
Powerbike
Main Motorcycle: 2005 Thruxton
Join Date: Feb 2006
Location: Northeast
Posts: 330
Other Motorcycle: 1984 Honda XR350R
Smaller headlight installed on Thruxton
---
I got done installing a new headlight on my bike a couple weeks ago, as well as some MBW LED turn signals that fit around the fork tubes. I started this project in January and took my time and only worked on it once in a while. I had been thinking that my stock headlight stuck out too far and looked odd without any gauges above it to fill up the empty space. I also liked the look of some bikes I had seen with a small headlight or no headlight. I was going to use a couple small PIAA lights, but I thought they didn't fit the style of the bike, so I ended up with a single Oberon billet light, which has a nice shape and keeps the single-headlight cafe racer look intact. The light has a halogen H4 bulb with high and low beams, and it also has a small parking light, so all the functionality of the original light remains. I reused my LSL fork tube clamps and just made a cross piece to support the light, having to change part of the Oberon mounting bracket to make it fit together. It would have been simpler to mount the light right to the lower triple clamp, but I didn't want to take everything apart just to drill/tap some holes into the clamp. There are no 54 mm MBW signals, so I also made a couple spacer sleeves to adapt their 56 mm signals to the 54 mm fork tubes. The old headlight bucket wiring was cut out or shortened to fit under the tank. I wasn't 100% sure I would like the change, but after seeing it completed, I do prefer the cleaner compact look of the small headlight. This change also dropped a couple more pounds in weight - now down over 64 pounds from stock, although I did it purely for looks.
JG
Lifetime Premium
Site Supporter
Powerbike
Main Motorcycle: 2005 Thruxton
Join Date: Feb 2006
Location: Northeast
Posts: 330
Other Motorcycle: 1984 Honda XR350R
Some bikes that inspired the change: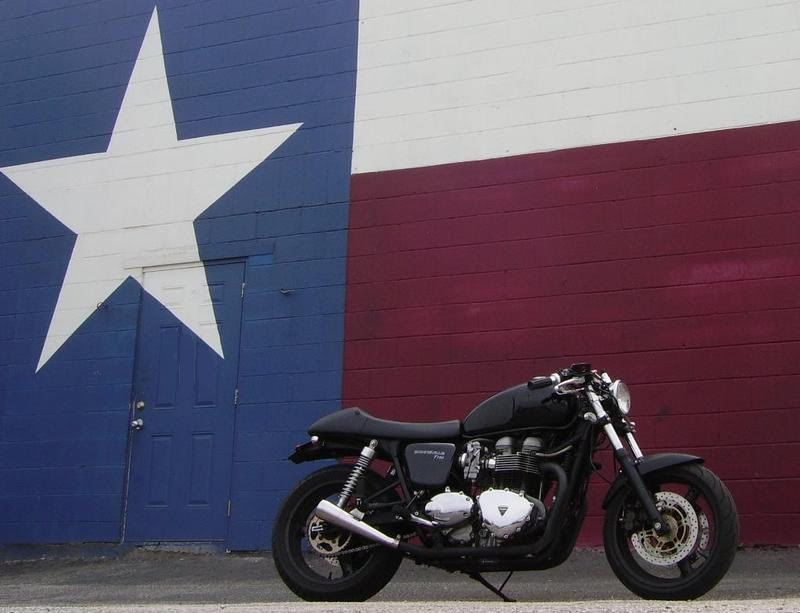 Senior Member
Team Owner
Main Motorcycle: None don't ride anymore
Join Date: Dec 2004
Location: Tacoma,WA
Posts: 4,795
Looks vicious JG. Well done
---
Ruining a perfectly good Bonnie since 2004.
Senior Member
Site Supporter
Legend
Main Motorcycle: 904cc Bonnie w/magwheels


I'm flattered to have inspired anything on your wonderful Thrux.

That Russ Mitchell/Exile-Built bike is bad-freakin-ass....I'd love to have it. Carbon everything (wheels, tank, primary cover, etc etc etc), huge motor, schwiiiiiing!
---
Last edited by sweatmachine; 07-16-2009 at

02:16 AM

.
Senior Member
SuperBike
Main Motorcycle: None! :-(
Join Date: Apr 2004
Location: NJ
Posts: 1,600
Sick! You need to enter that into the Bike of the Month contest.
Senior Member
SuperSport
Main Motorcycle: 12 Street Triple R
Join Date: Jul 2007
Location: SoCal
Posts: 1,394
Other Motorcycle: 02 Moto Guzzi V11 LeMans
Extra Motorcycle: 14 Honda CTX 1300
Looks good but for me I'd rather have a bigger 8" off a Duc SportClassic.
---
Long Live The Limey:D
BIR#220
Blue Knights Chapter XX
Green Knights Chapter 50
Yep. I've got some mods .
Lifetime Premium
Site Supporter
Powerbike
Main Motorcycle: 2005 Thruxton
Join Date: Feb 2006
Location: Northeast
Posts: 330
Other Motorcycle: 1984 Honda XR350R
When I saw that small light you put on a couple years ago, that is what got me thinking that my stock Triumph headlight was sticking out too far - so your bike is probably the main inspiration.
The missing speedo/tach left too much empty space...
Premium Member
Site Supporter

Site Supporter
SuperSport
Main Motorcycle: Triumph Bonneville
Join Date: Nov 2005
Location: Southwestern Illinois
Posts: 1,257
---
JG, been way too long since I've seen pics of your
incomparable Thruxton... the new headlamp looks
spot on, just pulls the front end together that much more, looks like it was meant to be - great work as ever! fwiw I'd take yours over the RM bike in a heartbeat...
New Member
Minitwins
Main Motorcycle: Bobbers
Join Date: Mar 2009
Location: Sydney
Posts: 17
Other Motorcycle: Ducati Monster
Nice!!
---
thats an amazing bike man!!
went in a different direction with my bike but also inspired by Exile.
really really really like that light you got on there!! been wondering what to do about my front. same issue, the light is just sitting out to far..
http://www.triumphrat.net/triumphrat...at-escape.html
is it still working well at night even though its so small??
Senior Member
World SuperBike
Main Motorcycle: Two wheeled
Join Date: Jul 2007
Location: Anytown, USA
Posts: 2,415
Other Motorcycle: several
Extra Motorcycle: next one
Egads, I think I have a new rave-fave. Bravo JG.

/M
Posting Rules

You may not post new threads

You may not post replies

You may not post attachments

You may not edit your posts

---

HTML code is Off

---