World SuperBike
Main Motorcycle: 1970 Bonneville
Senior Member
Join Date: Jun 2009
Posts: 2,398
Does it run? What is the performance of such a bike? Some more detailed pictures would be great to see. Also, is the headlight electric or a flame?
Commentator
Main Motorcycle: T140 E
Senior Member
Join Date: Jun 2009
Location: Reading Berks UK
Posts: 8,312
Other Motorcycle: 56 Plunger Tatty Cub
Extra Motorcycle: CZ winter bike
It will be acetylene

you can see the gas generator, and the chimney on the lamp

given the brakes on those things, I'd guess the description of performance is "enough"!
World SuperBike
Main Motorcycle: 1982 TSS + 2011 Tiger 80
Senior Member
Join Date: Dec 2008
Location: Wales
Posts: 2,320
Other Motorcycle: 82 TR65, 69 T120 73T100R
Extra Motorcycle: 08 Street Triple, 1913 "A
Will try to answer a few questions:
Photos.
The only other one I have is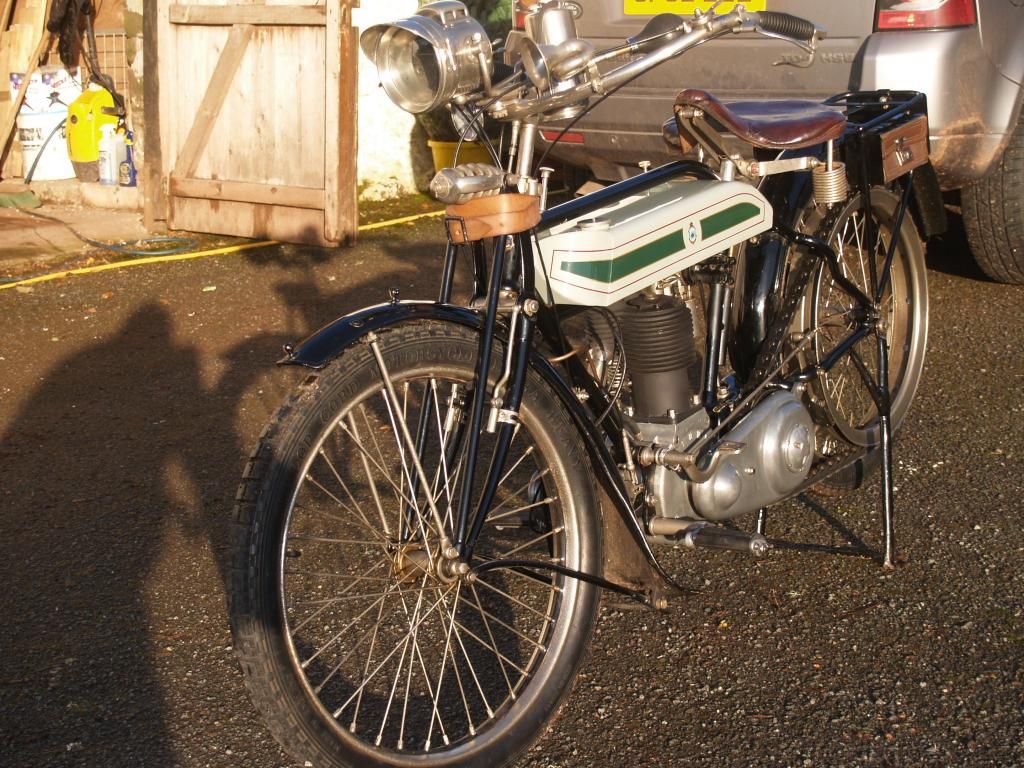 and the bike is now packed away for the winter.
Top Speed
Probably around 50 mph but as Dave M points out you would need to be brave as the brakes, especially the front, are feeble. A more practicle speed is around 35 mph.
Does it run
Most definitely and is likely to be very reliable. The Triumoh Model H was christened the "Trusty Triumph" by the British Dispatch Riders in the First World War.
Lights
Yes, Acetylene. Told it give a brilliant white light but needs a 2hr clean after use as the reside solidifies and corrodes unless removed.
.
---
Last edited by epynt1050; 12-12-2012 at

01:36 PM

.
World SuperBike
Main Motorcycle: 1970 Bonneville
Senior Member
Join Date: Jun 2009
Posts: 2,398
50 mph is pretty impressive especially given the feeble brake. Does not even seem to be one on the front
It is a beauty and a wonderful piece of history to be sure. I am confident that it will be well cared for and preserved for future generations.
I look forward to more pictures in the spring time.
Thanks,
Henry
Commentator
Main Motorcycle: T140 E
Senior Member
Join Date: Jun 2009
Location: Reading Berks UK
Posts: 8,312
Other Motorcycle: 56 Plunger Tatty Cub
Extra Motorcycle: CZ winter bike
It's what thick soled shoes (and brown corduroy trousers) were made for
World SuperBike
Main Motorcycle: 1970 Bonneville
Senior Member
Join Date: Jun 2009
Posts: 2,398
Posting Rules

You may not post new threads

You may not post replies

You may not post attachments

You may not edit your posts

---

HTML code is Off

---