Senior Member
Legend
Main Motorcycle: 72 Bonneville T120RV
Join Date: Aug 2010
Location: Canada
Posts: 10,937
Looks like good clean fun to me, Dr.
Senior Member
World SuperBike
Main Motorcycle: 1982 TSS + 2011 Tiger 80
Join Date: Dec 2008
Location: Wales
Posts: 2,320
Other Motorcycle: 82 TR65, 69 T120 73T100R
Extra Motorcycle: 08 Street Triple, 1913 "A
How about this one?

1919 Triumph Model H ( the "TruystyTriumph") as used by Dispatch Riders on theWestern Front 1914-1918
---
Last edited by epynt1050; 12-09-2012 at

09:03 AM

.
Senior Member
Legend
Main Motorcycle: 72 Bonneville T120RV
Join Date: Aug 2010
Location: Canada
Posts: 10,937
That's a great machine Epynt. How about some close up detail shots? Thanks.
Senior Member
World SuperBike
Main Motorcycle: Triumph Tiger 800XC
Join Date: Nov 2012
Location: Carlsbad, Ca. USA
Posts: 1,914
Other Motorcycle: 2016 Harley FXDL
A friend of mine has this 200cc Cub for sale. Ugly but runs first rate.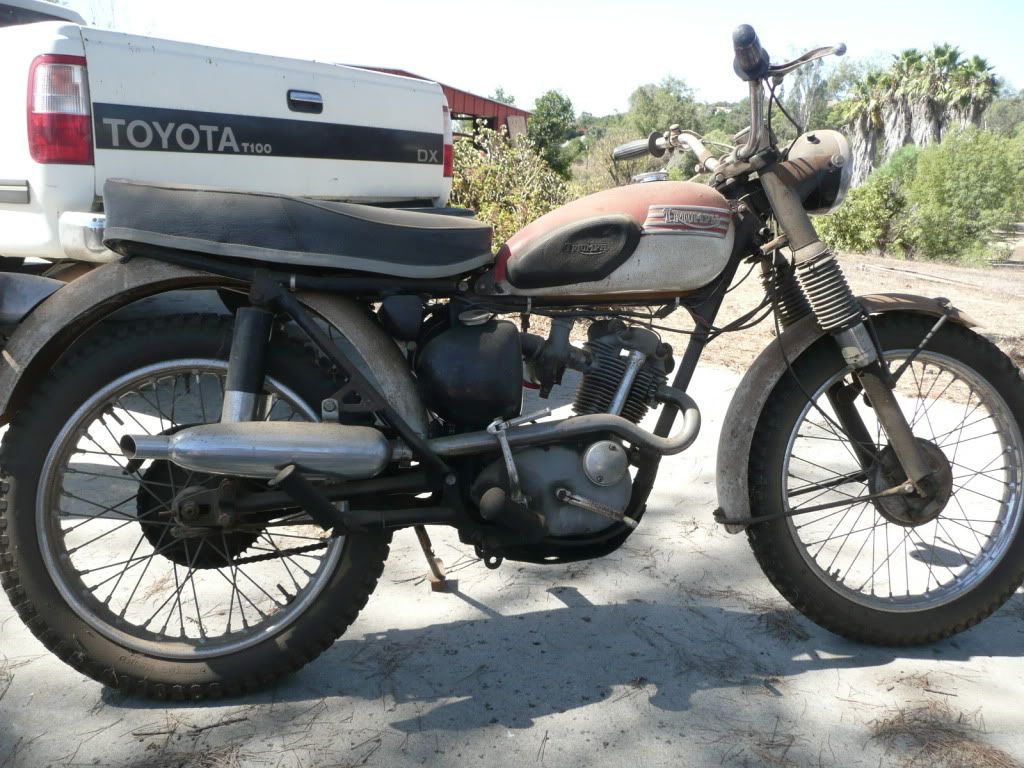 I think he wants $2k..
---
MSF RiderCoach. Retired!
Senior Member
World SuperBike
Main Motorcycle: 1982 TSS + 2011 Tiger 80
Join Date: Dec 2008
Location: Wales
Posts: 2,320
Other Motorcycle: 82 TR65, 69 T120 73T100R
Extra Motorcycle: 08 Street Triple, 1913 "A
New Member
Minitwins
Main Motorcycle: triumph 5/1
Join Date: Feb 2013
Location: melbourne
Posts: 11
What a great shot. Could have been taken in 1940!!
Senior Member
Commentator
Main Motorcycle: T140 E
Join Date: Jun 2009
Location: Reading Berks UK
Posts: 8,276
Other Motorcycle: 56 Plunger Tatty Cub
Extra Motorcycle: CZ winter bike
recent purchase
---
Bought this 3TA at the weekend.

I overpaid but that's red wine and ebay for you!
Non matching but same year (60)

I do have the mudguards, stays and a rusty chrome headlamp.
The rear guard is utilitarian and probably the original inner from the bathtub. Plus a seat base

He claims to have had it running and has fitted new shocks and sorted the front forks - although there are issues due to fitting the nacelle type stanchions with the filler hole that I can't find a screw for.

There's also a spare set of cases, a barrel and head. Dubious gearbox spares and a crank. yet to be fitted modern combined regulator/zenner thingie and new primary chain, clutch plates and odds and sods.

I'm in no rush to get it fixed up and it won't be back to standard anyway. Eventually I'll fit a small headlight and seat with maybe alli mudguards.

The solo saddle is from a Tiger Cub project that I placed on the bike to see what it looked like.

I may either get it running, then strip it down or just dive in, but that's a recipe for a project to sit in boxes for years

It had a pipe fitting fitted to the primary oil filler for some reason, don't know why, so I temporarily pinched the clutch adjusting cover to bung the hole. I can pick up a replacement at kempton this coming weekend.
---
Last edited by DAVE M; 03-25-2014 at

06:18 AM

.
New Member
Production 125
Main Motorcycle: 1954 Triumph Terrier 150c
Join Date: Dec 2014
Location: Las Vegas
Posts: 10
Other Motorcycle: Harley Sportster
Still working ont he Terrier
---
For some reason my old account user name would not work so I rejoined under "Triumph Terrier".
The link was gone for the old photos I posted, so I thought I'd post them again along with the latest photos of the Terrier. Three stages to the pictures. First tow photos are the way I purchased the Terrier, the second photo shows the Terrier just cleaned up with original paint and T20 rear fender. The last pictures show the Terrier as it sets today.
I've just finished my Terrier, not a restoration, just a re-do. Wanted something a little different so did not go with the stock colors or exhaust. Frame and all the other black parts are power coated. The sheet metal is primer, for now.
Most of the parts on the bike are stock and original. The only non-original parts on the bike are the rear fender,(found in England), the rear rim and spokes (aftermarket), the front spokes (aftermarket), the exhaust (T20) the speedo (T20), the nacelle (T20), the handle bars and the clutch and brake levers, and the control cables. Still need to install the chain guard.
All of the original, stock, parts are stored away in case I ever want to restore to the original condition.
It's a number matching 1954 150cc Terrier, T 2XXX frame and T15 2XXX engine.
The engine has a +0.40 3TA piston, I polished the crank and mildly ported the head with a larger intake valve. I have a nice Harman and Collins cam but have not decided whether or not to run it. The, cases, side covers, carb, head and tranny are original. I am running a non-stock ratio on the primary drive and have single chain sprockets on the crank and clutch.
P.S. I didn't want to connect the shift indicator so I used an old T20 brass plate, turned it over and polished it, then attached a 2 Pound coin....
[
---
Last edited by Triumph Terrier; 12-19-2014 at

04:52 PM

. Reason: more info
Senior Member
Supersport 600
Main Motorcycle: 1958 Triumph 6T
Join Date: Jun 2010
Location: New Zealand
Posts: 165
Other Motorcycle: 1953 Triumph 6T
Extra Motorcycle: 1958 Triumph 3TA
They don't make 'em like this anymore . . .
---
Pic taken February 2015, 1927 500cc Model N Triumph
Senior Member
Formula Extreme
Main Motorcycle: '71 Triumph T120R "Daisy"
Join Date: Dec 2013
Location: Bedfordshire, England, UK
Posts: 905
Other Motorcycle: '68 Triumph T90 "Lilly"
Extra Motorcycle: '55 AJS Model 18S "Bess"
Posting Rules

You may not post new threads

You may not post replies

You may not post attachments

You may not edit your posts

---

HTML code is Off

---