Team Owner
Main Motorcycle: Hinckley Triumph
Senior Member
Join Date: Dec 2006
Posts: 4,978
2013 Royal Enfield Continental GT Cafe Racer
---
The [b]Royal Enfield Continental GT Cafe Racer[b] is scheduled to be released in 2013. With the first new chassis to be released by the Indian motorcycle manufacturer in 50 years, it comes complete with a selection of performance upgrades and Cafe Racer-styled parts not found on any other retro motorcycle, including Ohlin rear suspension and Brembo front disc brake.
For more info click on the following link:
http://www.returnofthecaferacers.com...afe-racer.html
Grand Prix 250
Main Motorcycle: Triumph Thruxton
Member
Join Date: Jan 2012
Location: Charleston SC
Posts: 48
That looks amazing!


Sent from my Motorcycle iPhone app
Site Supporter
Pole Position
Main Motorcycle: 2007 Tiger 1050
Lifetime Premium
Join Date: Jul 2009
Location: Birmingham, Alabama
Posts: 3,860
Other Motorcycle: 1998 Yamaha XT350
Extra Motorcycle: Mrs. Irish's 2002 Bonnie
It looks to be visually well executed. Kudos to the Indians. I wonder how it performs, of course a bike like that is not so much about the performance as the looks.
Site Supporter
Pole Position
Main Motorcycle: 11 Speed Triple
Lifetime Premium
Join Date: Jun 2008
Location: Sanatoga Pa
Posts: 4,009
Other Motorcycle: 05 Racing Yellow Thruxton
True, but if it can't get out of its own way, what's the point?
Sent from my iPhone using
Motorcycle.com App
---
11 Speed3 Arrow Low Exhaust
05 Thruxton TPUSA Exhaust, ARK, Rear Fender delete, Woodcraft Clipons
You can take the boy out of Texas, but you can't take Texas out of the boy.
Hopefully, the price will be affordable as the looks are just great. Quality and service have vexed RE for years in America but under new ownership it looks to become a resurgent name in the motorcycle world.
I love the big singles just to putz around on but would have to see how the service/quality play out in the coming year.
Otherwise the picture makes it look as good as the once "due this week" Norton. And, we all know how the Austrian/Indian KTM is ruling the motorcycle circles.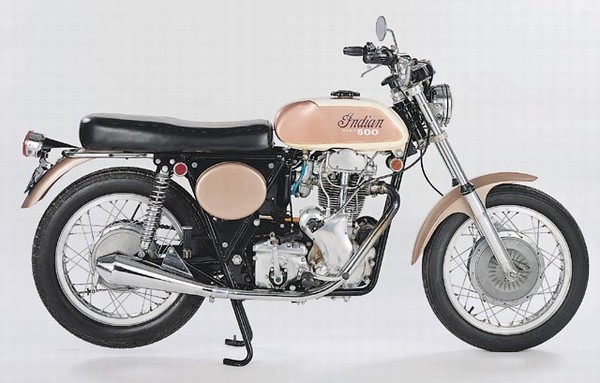 The last great 500 RE 1969. Ironically badged as an Indian.
Site Supporter
Supernova
Main Motorcycle: '08 Triumph Bonneville
Lifetime Premium
Join Date: Nov 2007
Location: I'm living in my own private Pittsburgh
Posts: 22,691
Other Motorcycle: '65 Ducati 350 Sebring
Extra Motorcycle: '14 Triumph Thruxton 900
I like it but I agree with Bill. It's going to be all flash and no finish.
---
"It's a great day for hockey" - "Badger" Bob Johnson

Sometimes you just have to go out to the beaver dam with a machete and start chopping wood
Powerbike
Main Motorcycle: 2007 Bonnie
Senior Member
Join Date: Feb 2008
Location: London
Posts: 367
If it has the usual RE 28 bhp, It's a cart horse dressed up for the Grand National.
Site Supporter
SuperSport
Main Motorcycle: 2012 Thruxton (black)
Lifetime Premium
Join Date: Apr 2012
Location: Rhode Island
Posts: 1,369
Other Motorcycle: 2013 KTM 690 Enduro R
Hmm, visually stunning but if it really has an unreliable 28hp then I see no point.
---
- Stephen
SuperBike
Main Motorcycle: 04 Thruxton
Senior Member
Join Date: May 2008
Location: Marin (Bay Area), USA
Posts: 1,733
Other Motorcycle: 13 Str Trple R
Extra Motorcycle: 16 Thruxton R
Its the ducks guts in looks. I had an Enfield Indian back in 1998. It used to drive me to distraction although I do attribute my garage prowess to that bike. Every week something else would break down. I eventually sold it after achieving semi reliability
---
FCR, Uni, 813 cams, Works shocks, drilled Ricor valves, Pieman ignitor, green springs, Beringer caliper, preds, damper, brace, Corbin, custom tinware, JMC swingarm, Brembo radial M/C, oil cooler, rearsets, clip ons, tubeless rims, Acewell, T/Clamp
Posting Rules

You may not post new threads

You may not post replies

You may not post attachments

You may not edit your posts

---

HTML code is Off

---