Banned
Site Supporter
Legend
Join Date: Apr 2006
Posts: 10,017
Best Friends
---
Those of us babyboomers who have been around a while had a tenedency to make friends at an early age and maintain that friendship for decades. You know the person so long they become family a brother. You get to be their best man and they got to be yours. You were able to see each others children grow up. You know each others highs and lows in life.
How valuable is that friendship to you, if you have one...that is my question.
Senior Member
Commentator
Main Motorcycle: 2005 Bonneville Blue 790
Join Date: Sep 2006
Location: Central Maryland, USA
Posts: 9,416
Other Motorcycle: 1973 CB450, long gone
My best friends are some of the guys I met in grade school and high school, and that was a long time ago. We still get together multiple times each year.
---
Marty
2005 Bonneville Blue 790cc, AI removed, Staintunes RC, no snorkel, inlet enlarged, 118/40/NBZT "Thruxton" needles/1 shim/3 turns, Ikon 7610s, Ricor Intiminators, Michelin Pilot Activs, D9 gauge panel, tachometer.
Driftless Moderator
Site Supporter
Commentator
Main Motorcycle: 2008 Bonneville Black
Join Date: Aug 2008
Location: Fountain City, WI
Posts: 8,725
Other Motorcycle: Spousal 2009 Bonnie Black
I'm visiting college friends this weekend, at this very moment I'm ignoring them in fact.

We don't keep in touch a lot between visits, but when we get together it's like we haven't been apart. Just very comfortable. It's that way for lots of the folks we made friends with back then. It's pretty cool.
Banned
Site Supporter
Legend
Join Date: Apr 2006
Posts: 10,017
I got to reconnect with a lot of highschool friends with facebook. I actually went back and had lunch with some after 38 years...
Senior Member
Legend
Main Motorcycle: KTM Duke 690
Join Date: May 2010
Location: Newcastle, Australia
Posts: 11,171
Other Motorcycle: '95 Speedie & '82 CB750
Extra Motorcycle: RGV250 Trackie
My brother and I share a best mate. None of us live near each other, but we each value the other dearly. We are all colourblind. Other than that none of us is anything like the other two. On the rare occasion we get to tour with each other, it's the best times of our lives.
---
"By looking at the difference between perceived danger and actual danger, you can fundamentally change your reaction." Chris Hadfield.
Premium Member
Site Supporter
Team Owner
Main Motorcycle: 2009 Bonneville SE
Join Date: Sep 2009
Location: Fairfax County, VA
Posts: 4,858
Other Motorcycle: 2011 BMW R1200RT
Serendipitous timing Lee! This morning I read something that reminded me of my best friends growing up. Two brothers (twins) and another buddy. The four of us were inseparable since we were 10 years old through college. We were all in each others weddings trading off the best man role, etc. And not five minutes after I thought of them one of the Twin brothers gave me a call. At that very moment, he had heard a song on the radio that reminded him of me. We all live in different parts of the country now, and dont see each other nearly often enough, but even after not talking with him for months it's like he lived around the corner.
---
"
The views expressed here are my own and do not represent my employer's position or opinion
."
Banned
Site Supporter
Legend
Join Date: Apr 2006
Posts: 10,017
Jun I know exactly what you mean. I have a friend just like that and I live too far away now. I have known him since he was four and over 52 years there are so many memories... from childhood to adulthood. I think of him as my brother.
Senior Member
Pole Position
Main Motorcycle: '07 Tiger
Join Date: Jul 2008
Location: Binghamton, NY
Posts: 4,003
Other Motorcycle: 05 DR650
Extra Motorcycle: 04 Aprilia Mojito scoot
I still talk to my buddy from first grade at least once a week. Wish he lived closer. We've been best friends for 52 years now. All the neighborhood mom's told my mom not to let me play with him when we moved there, she didn't listen to them.
Here's a pic taken about 12 years ago. I'm the sh!tf@ced one on the right, he's the bad@$$ HD dude acting like he's on his bike.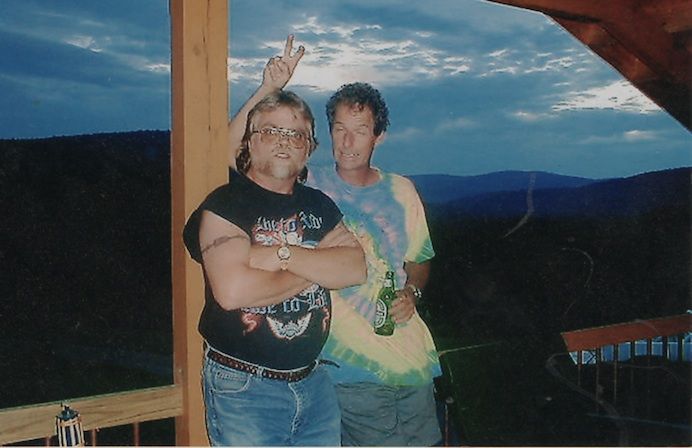 ---
Last edited by ride4321; 11-17-2012 at

11:43 PM

.
Banned
Team Owner
Main Motorcycle: 2010 Bonneville T100
Join Date: Mar 2010
Location: Philadelphia, PA USA
Posts: 4,433
Other Motorcycle: 2007 150cc Retro-scooter
My best friend I have known for over 35 years, I have a circle of friends from that era. He's even the reason I finally bought a Triumph.
Banned
Site Supporter
Legend
Join Date: Apr 2006
Posts: 10,017
My best friend I have known him for 52 years...hoping to get in another 30..atleast.
Posting Rules

You may not post new threads

You may not post replies

You may not post attachments

You may not edit your posts

---

HTML code is Off

---