Banned
Site Supporter
Legend
Join Date: Apr 2006
Posts: 10,017
Lifetime Premium
Site Supporter
Supernova
Main Motorcycle: Speed Triple
Join Date: Feb 2005
Location: South East Nevada
Posts: 24,167
Other Motorcycle: CBR1100XX
Extra Motorcycle: Piaggio MP3
The review on the Stelvio are fairly positive. If you want a relaxed long-distance ride, it's hard to beat. If you want to carve corners, the Ducati Multistrada seems the better choice. The Triumph Explorer is lauded for its motor but has been deemed useless off-road. The three highest rated adventure tourers are: KTM 990 Adventure, Yamaha Super Tenere, and the quintessential BMW GS.

Like you say Lee, it's what you plan to use the bike for that makes the final decision. If I were going to Alaska and back I'd buy the BMW GS1200. If I were following my heart, I'd buy either a Goose or a Triumph. Tough call.
Banned
Site Supporter
Legend
Join Date: Apr 2006
Posts: 10,017
Cat it is a really difficult decision but I still have time I liked the Tenere as well. I will not be able to ride for the next two and a half months...my Rotator cuff is getting worse and my left arm is weak...so I am stay off the bike...until it is repaired. I will keep looking and once i am better resume demo rides...
Lifetime Premium
Site Supporter
Supernova
Main Motorcycle: 2011 Sprint GT 1050
Join Date: Mar 2005
Location: Brisbane Australia
Posts: 23,411
Other Motorcycle: 2004 Daytona 955
Extra Motorcycle: Previously - Many
Cat I am with you if I had the money and wanted one of them thar adveturing type scoots I would want a Goose or Triumph or a Goose too.
Never owned a Goose...............but one day..............maybe
---
My album click here;
http://www.triumphrat.net/memberalbu...er/2712/sort/3
Lifetime Premium
Site Supporter
Supernova
Main Motorcycle: '08 Triumph Bonneville
Join Date: Nov 2007
Location: I'm living in my own private Pittsburgh
Posts: 22,645
Other Motorcycle: '65 Ducati 350 Sebring
Extra Motorcycle: '14 Triumph Thruxton 900
You gotta get a Goose, Dave.
---
"It's a great day for hockey" - "Badger" Bob Johnson

Sometimes you just have to go out to the beaver dam with a machete and start chopping wood
Senior Member
World SuperBike
Main Motorcycle: 05 Sprint
Join Date: Jul 2006
Location: New Jersey USA
Posts: 2,152
Other Motorcycle: 72 Norton Commando
Extra Motorcycle: 86 MG Lemans
Lee, I bought my Guzzi LeMans in 86 and flogged it for 20 yrs, track days ,touring etc. with no issues. I refer to mine as my stone ax, crude but very effective the new ones are more refined with FI and all the modern stuff. A buddy of mine just came off a Busa and bought a Griso and loves it. He says it tracks like it's on rails much like mine (can't wait to ride it). Piaggio apparently is not the best in customer service but the bikes are bullet proof. If character counts you can't beat a Guzzi.
---
An emotional response is not a substitute for critical thinking.

"Suppose you were an idiot and suppose you were a member of Congress. But I repeat myself."
-Mark Twain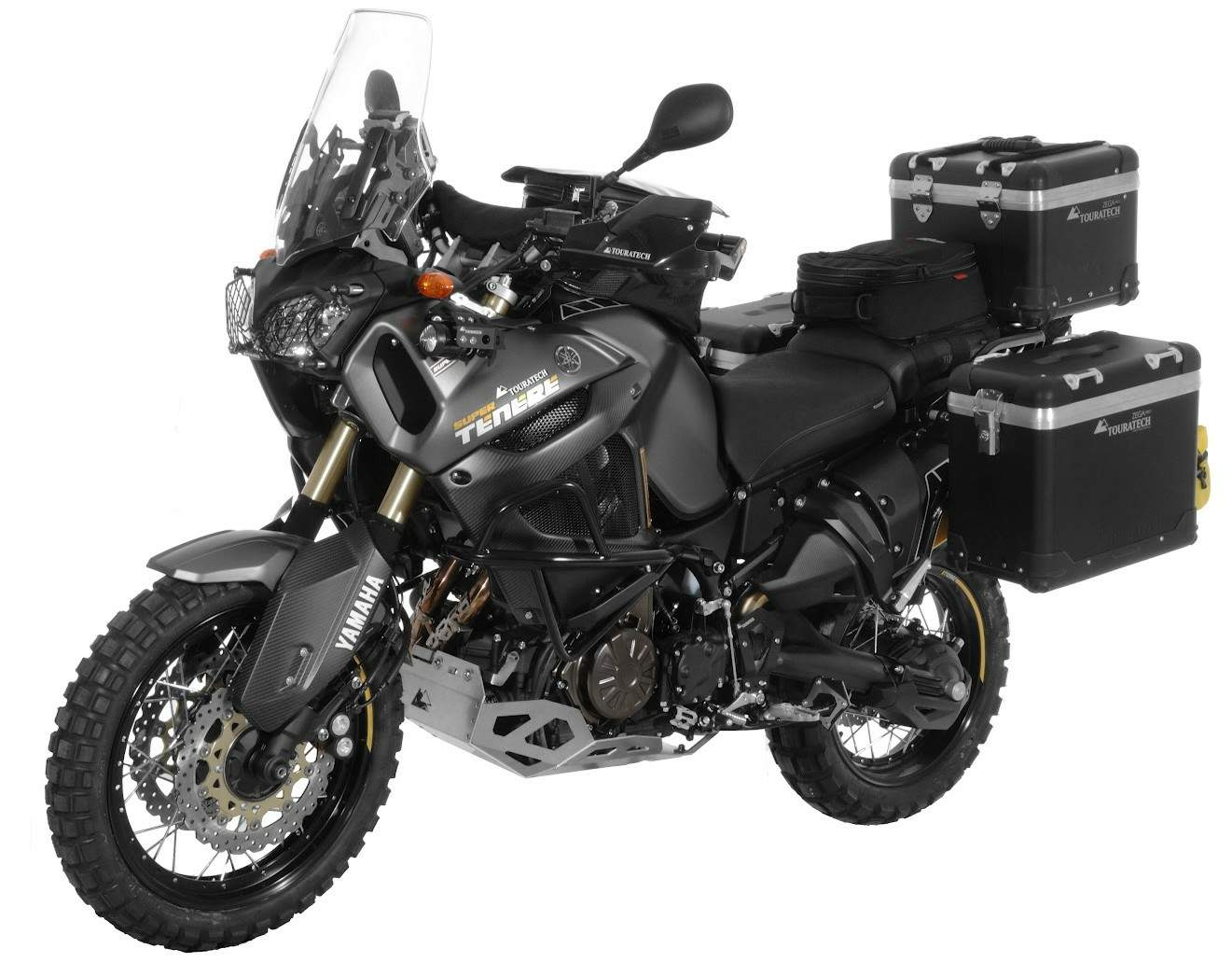 A good alternative to air cooled farm tractors.
Senior Member
SOTP Vintage Series
Main Motorcycle: 2007 Thruxton Bonneville
Join Date: Mar 2004
Location: B'ham UK
Posts: 7,994
Other Motorcycle: BSA Starfire 1968
Extra Motorcycle: 1930 Triumph NSD.
All those bikes are Chelsea tractors. buy a Scrambler throw some Knobbllies and better shocks on it. Chuck away the heavy exhausts. Put on a box or some panniers and go.

Or even cheaper get a smaller CC second hand enduro bike and strap a fuel can on the back.

To me these giant trail bikes are just about the daftest thing.
---
Be who you are and say what you feel because those who mind don't matter and those who matter don't mind......Dr Seuss
http://www.dakar.com/dakar/2012/us/r...ist-bikes.html
After I read Nick's post I got to thinking. The 2012 Dakar race had 188 racers start on 12 brands of bikes and 15 models. All 449 and 450cc engines. Across the deserts they often reached speeds of 110mph and dug their way through sand, mud, slippery grass and snot dirt. Rode on rock, pavement and other crap.
Maybe we don't need huge 1200 cc bikes to cruise across America with occasional off road jaunts. I am going to do another 1000 mile day on a 1050 Sprint. Will do an honest 150mph all day, just needs a bigger gas tank. Could I just change tire styles, slow down a bit and chew up some muddy roads? Dog did the Dawson mud bath on a Bonny with 69 hp on stock tires, pulling a trailer. Of course he is an Aussy, made of sterner stuff. But hells bells I am an old American fart. Mean, ornery and bull headed. Jonkster tried off roading on a Tiger but he had racing slicks on, baggage piled knee high to a giraffe and silly boot with metal tabs that stuck in the seat every time he tried to dismount. What if he didn't have slicks, monstrous luggage pile? Could he have had a more enjoyable adventure off road?
I am going to investigate. I like the idea of a huge motor giving me 130-170hp, letting me do 150-170mph on expensive sticky tires with no tread to speck of but I would also love
to see some back roads on the same trip. Worth trading a little here and there for.
Senior Member
SuperBike
Main Motorcycle: '06 Speed Triple
Join Date: May 2010
Location: NorCal
Posts: 1,748
Other Motorcycle: '96 Adventurer Cafe Racer
Extra Motorcycle: Not any more
Lee, I like the goose, but I can't make any logical arguments for it. There are better alternatives under most any standard you''d care to measure by. But this isn't just about the best answer to the question or we'd have about 3 bikes on the market. The goose has the cool factor that you're just never going to have with say a yammie.

HAP, you forgot the most important part of your self-description. But hells bells I am an old American fart. Mean, ornery and bull headed. You should also add "Texan" to that list - TX has a reputation for many things; a lack of determination isn't one of them.

But I think you touched on the critical detail here - it doesn't so much matter what sort of bike you ride for this sort of trip, but the tires are critical. Anybody who's done some sort of high performance riding/driving knows tires are the single biggest change you can make to the vehicle. Whether it's rock crawling or circuit racing; pounding out the miles on the slab or trying to get through 6" of slimy mud, the right tire is the single most important thing for insuring you get where you want to go.

I have no doubt you could get a Sprint or Tiger though a muddy track if you had the right tires on it. Might not be the best tool for the job, but it'll get there. And you could ride a 450 Supercross bike down the interstate if you had a set of tires that would hold up more than 50 miles at those speeds and provide some modicum of handling. (well, if you could actually license the thing anyway).

So you compromise on your tire choice. Then you compromise on bike size...might as well be comfy on that long haul to the single track. Then you make another compromise, etc, etc...before you know it, you've got bikes like the 1200cc monsters you've mentioned. I think every one of us would rather be on a smaller, lighter bike in the technical stuff, but just as many would rather be on something big and comfy with lots of luggage space on the slab getting there. Finding the middle ground has never been the American Way.

(In this case, seems 'middle ground' is about 800cc in German or British form)
---
Don
'06 Speed Triple
'96 Adventurer Cafe Racer
and a bunch of other stuff
If everything seems under control, you're just not going fast enough - Mario Andretti
Posting Rules

You may not post new threads

You may not post replies

You may not post attachments

You may not edit your posts

---

HTML code is Off

---