Powerbike
Main Motorcycle: 2007 Thruxton
Senior Member
Join Date: Jan 2008
Location: St. Peters, MO
Posts: 398
do you have a non stock choke knob?
---
i've been wanting to do something different with my choke knob. the factory one is straight basic and that is ok i guess but i needed something with just a little flair. i've searched around on this forum for some starter ideas and on the internet in general (alot of it v-twin stuff out there). 2 nights ago i came up with this idea and so today after work i went to the guitar store and found some knobs for a fender stratocaster(2 "tone" and 1 "volume" in a package for about $5). i popped off the factory finishing cap on the choke pull and krazy glued it and the "volume" knob together. i'm not sure it will hold up with the engine heat but if it fails i will maybe switch to gorilla glue or liquid nail or something else. any suggestions are welcome. for now though here it is.

so let's see some pics of you guys doing with your choke knobs?
---
"I'd rather have a bottle in front of me than a frontal lobotomy."
MODS- b.c. f.e.k./b.c. preds/racetech prog. front. springs/17 tooth/crg lanesplitters/triumph gaitors/a.i. and snork removal/headers wrapped/lowered gauges/cibie lamp with osram bulb
Site Supporter
Legend
Main Motorcycle: 904cc Bonnie w/magwheels
Senior Member
that's pretty rad!

Back in my punk rocker days I glued beer bottle caps to the tops of my Stratocaster volume/tone knobs. I thought it looked pretty cool, and easier to grab ahold of on stage, in the dark, drunk....

When I finally got my Les Paul (Gibson Les Paul that is) I did nothing to it....she was beautiful "stock".
Grand Prix 250
Member
Join Date: Jul 2007
Posts: 79
---
Does it go up to
11
?
---
Last edited by EDG1911; 04-02-2008 at

04:53 AM

. Reason: add pic
Formula Extreme
Main Motorcycle: MINE!!
Senior Member
Join Date: Feb 2007
Location: Coral Springs FLorida
Posts: 562
Other Motorcycle: In my dreams
Extra Motorcycle: that's funny
This is mine:
---
2007 Bonnie Black
NB Drag Bars, Napoleon Bar-Ends, 19t Front Sproket, Bobbed front and rear fender, Lucas style taillight and bullet signal lights, blacked headers (hey, it's different than from when I got it), Matte Black Side Covers, and fenders, Red seat "embossing", Pazzo Racing Black anodized short levers, BC Predator exhaust, ARK & a rejet, AI removed
OTW: painted tank and headlight bucket w/ screen
Grand Prix 125
Main Motorcycle: 2007 Triumph America
New Member
Join Date: Mar 2008
Location: Grand Rapids,Michigan
Posts: 24
New knob
---
I recently installed a hammerhead choke knob from New bonneville. Easy and looks sharp.
---
Revenge is a dish best served cold.
Pierre Ambroise Francois Choderios de LaClos (1741-1803)
Site Supporter
Team Owner
Main Motorcycle: Suzuki V-Strom 650
Lesser spotted moderator
Join Date: Feb 2008
Location: Alton, Hampshire, UK
Posts: 5,585
Other Motorcycle: 2006 Bonneville Black
---
Bob - Ringer, Iron Butt Mile Eater, not dead yet
Don't worry about running out fuel, carry a spare can

"Just because you're offended doesn't make you right" Ricky Gervais
Grand Prix 250
Main Motorcycle: Bonneville Black
Member
Join Date: Dec 2007
Location: Cypress, TX
Posts: 70
I have an '08 Bonneville Black and was thinking of usining this for my choke knob in honor of were it was built.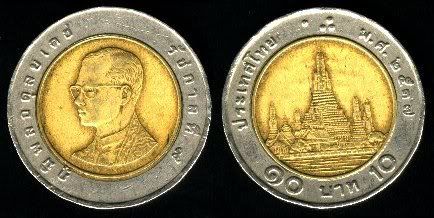 It's a 10 baht coin from Thailand. I've got quite a few of them laying around. My wife travels to Thailand a couple of times a year.
Powerbike
Main Motorcycle: 2007 Bonneville Goodwood Green
Senior Member
Join Date: Jan 2005
Location: Baltimore MD USA
Posts: 385
stock and likely to remain that way. Do like some of the alternatives shown.

ride on

rick
---
live to ride
World SuperBike
Main Motorcycle: 2005 Bonneville T-100
Senior Member
Join Date: Apr 2005
Location: The far west burbs of Chi-town
Posts: 2,174
Other Motorcycle: Better half's Rebel 250
Mine is something from NB or BC....but I can't remember what it is....except that it is chrome...
Similar Threads
Thread
Thread Starter
Forum
Replies
Last Post
$.99 Choke knob

GrayMitchell

Air Cooled Twins Technical Talk

43

03-19-2015

09:01 PM

Halloween choke knob

peastick

Air Cooled Twins Technical Talk

21

02-22-2008

09:51 AM

new choke knob

koifarm

Air Cooled Twins Technical Talk

22

02-02-2008

01:02 AM

Choke knob removal

OgmernIWulfsail

Air Cooled Twins Technical Talk

4

04-24-2007

04:30 AM

Knob below Choke

jaysray

Air Cooled Twins Technical Talk

3

12-09-2006

02:10 PM
Posting Rules

You may not post new threads

You may not post replies

You may not post attachments

You may not edit your posts

---

HTML code is Off

---