Member
Grand Prix 125
Join Date: Jul 2005
Location: Edmonds, Washington
Posts: 37
Sidecars
---
I'm thinking of getting a sidecar for my Bonneville. Anyone out there put one on? How do you like it? How long did it take to get use to handling the rig?
Senior Member
SuperSport
Main Motorcycle: Bonneville 07, "Bonnie"
Join Date: Aug 2007
Location: saint augustine, florida, notheast florida
Posts: 1,200
Other Motorcycle: Past rides, 66 bonneville
Extra Motorcycle: Past rides, 72 bonneville
sidecars
---
Ditto on that one! I am wondering if any of the antique side cars would be adaptable for the modern bonnies....It would seem that any sidecar should be adaptable with some fitting or welding of brackets....
Any info would be appreciated along with some pics if you are able...
Bill
---
Sitting on a cornflake waiting for the van to come!
New Member
Grand Prix 125
Join Date: Sep 2007
Posts: 28
I did some research prior to purchasing the one pictured from Motorvation (
www.motorvation.com
) and the only other new one I liked, that had a vintage look to it, was the Cozy sidecar, which is popular with the Royal Enfields. I was advised to stay away from Cozy only because it was too light for a Bonneville.
Motorvation also sells their sidecar mounts that
may
be adaptable to other sidecars.
It's a lot different than riding solo but it doesn't take long to get used to. It pulss right when accelerating, left when stopping and has some handlebar vibration at the start. It cruises pretty good at 60. I would definitely carry some weight in the sidecar if you don't have a passenger because it WILL lift on right hand turns.
---
1965 T100SR
2007 Bonneville T100
US Navy Minemen - We lay the best and service the rest.
---
Last edited by neuman; 09-28-2007 at

01:26 PM

.
Senior Member
Formula Extreme
Main Motorcycle: 2006 Scrambler
Join Date: Jun 2007
Location: Fort Payne, Alabama
Posts: 873
Extra Motorcycle: 2001 BMW R1100RT
I had a Yamaha Venture with a California Sidecar (kinda looked like a Batman pod) and I always had to carry sandbags in the car when I didn't have a passenger. That first time the hack lifts in right hand turn will ceratinly get your attention. Turns out a hack wasn't my cup o' tea although I could never quite shake the feeling it wasn't set up correctly before it came my way, oh-so-cool to look at and very hard (IMO) to drive.
---
2006 Scrambler
1974 BMW R90 sidecar rig
2001 BMW R1100RT
I have a Ural sidecar rig, & I got it from
www.wagnerscycle.com
and they know their stuff. You use to be able to buy "stand alone" new sidecars from Ural & I don't know why that would have changed. Look 'em up they will do you right!
---
J.P.



Frank: "Ughh, I bet you'll never guess what I had to do!"
Ozzy: "Umm,... Did you have to drink some chuck?"
Senior Member
Moto Grand Prix
Main Motorcycle: Definitely my 2007 Black
2 Thumbs up all the way!
---
Might I suggest this sidecar option that UncleCharlie sent me!
Senior Member
Formula Extreme
Main Motorcycle: 06 Bonneville Black
Join Date: Jun 2007
Location: Northern NJ
Posts: 832
Hedge that is GREAT! I want those handle bars on my bike, upside down of course! Its like the first moped powered wheelchair. Really, I would own one though.
Senior Member
SuperBike
Main Motorcycle: '06 T100, Jet & Tornado
Join Date: Dec 2005
Location: Montgomery County, MD
Posts: 1,671
I broached the idea of a sidecar to my better half. My lovely, middle-aged accountant wife poo-pooed the sidecar as
dorky
,
comedic
, and
slapstick
. And frankly I think she's right.
Senior Member
Grand Prix 500
Main Motorcycle: 2005 Bonneville
Join Date: Jan 2007
Location: between my ears
Posts: 141
Quote:
Originally Posted by
KingBear
I broached the idea of a sidecar to my better half. My lovely, middle-aged accountant wife poo-pooed the sidecar as dorky, comedic, and slapstick. And frankly I think she's right.
Hey, I resemble that remark. Actually, I get compliments, waves, thumbs up etc., all the time. Handling is very different. Steering is no longer counter-steering, it's the reverse. Like steering a tricycle. You get used to it. Mine is '72 Hack, so I guess you can call it an antique. Any good sidecar builder can fabricate mounts for your bike. I had mine done at Dauntless in Seattle, although the work was top notch, they didn't follow my directions and refused to correct the problem, so I had to have a local welder fix it. I wouldn't recommend them to anyone. That being said, the mounts are such that the hack can be removed in 15 minutes so I can ride solo. I love riding with the hack. My kids love it to. So does the Rottie. I also love riding without the hack. I have the best of both worlds. Dorky and Cool...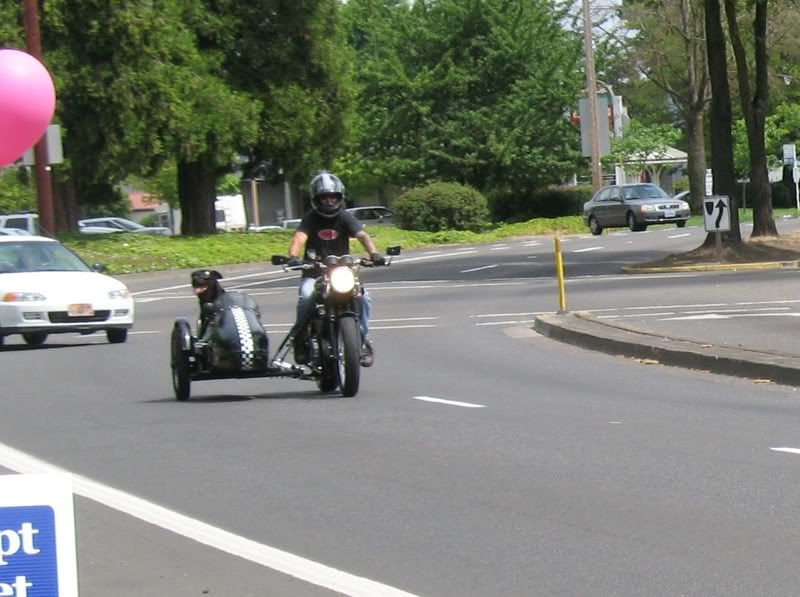 ---
'04 Thruxton
---
Last edited by oregonthruxton; 10-02-2007 at

12:39 AM

.
Similar Threads
Thread
Thread Starter
Forum
Replies
Last Post
Sidecars

evalu8or

Club Cafe'

32

07-04-2016

09:43 AM

sidecars

BobM55

Biker Hang-Out

1

09-16-2007

12:18 PM
Posting Rules

You may not post new threads

You may not post replies

You may not post attachments

You may not edit your posts

---

HTML code is Off

---