I've done the bafflectomy and drilled through the internal baffles but have always wondered what is inside. Well here it is. I had an old set off my 2002 Bonneville that were of no use so I ripped one of them down the middle to have a look.
1st. picture before:
Don't look any further if you are at all squeamish at the sight of rust and fiberglass.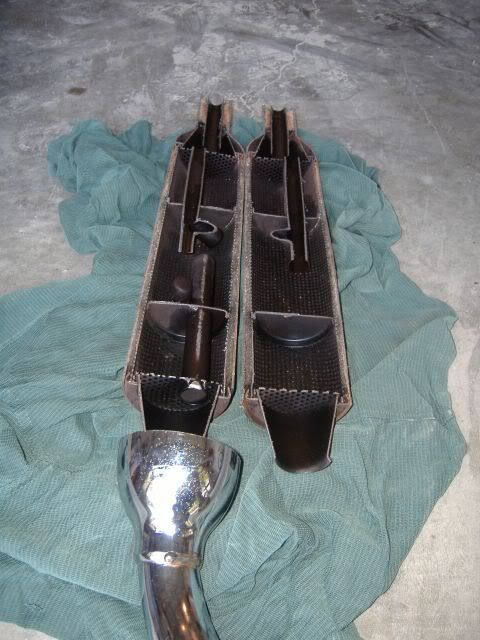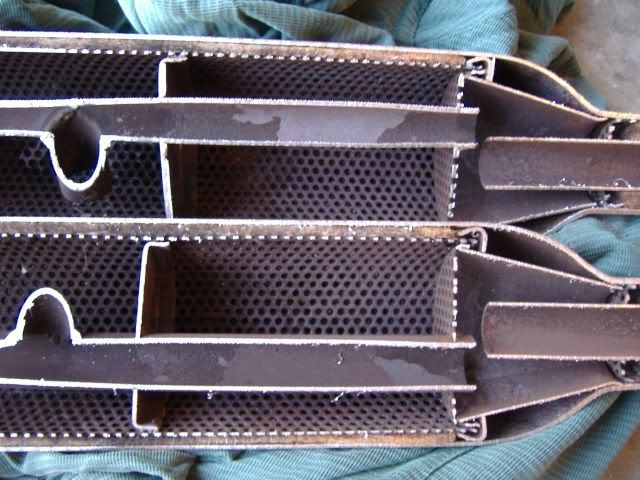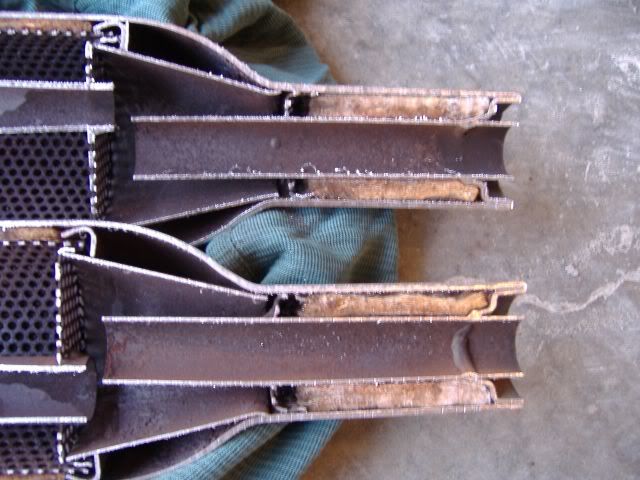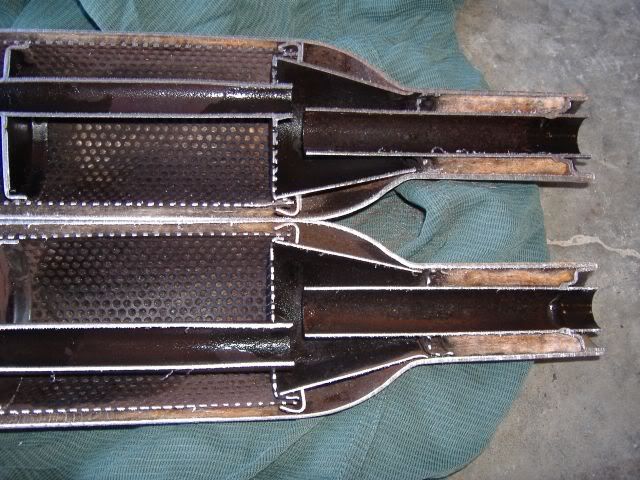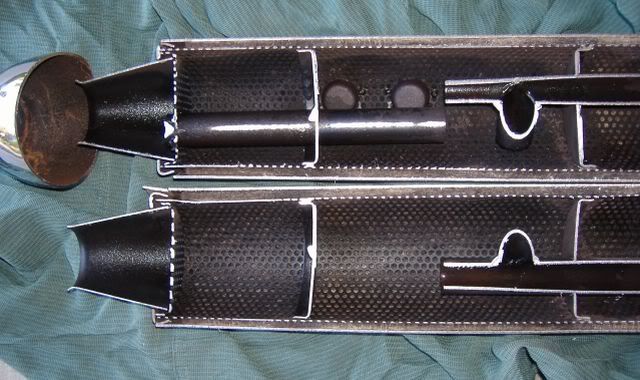 Now I know why they are so quiet. The exhaust has to goes through a maze of 5 chambers and baffles.
---
Stop Global Whining!
Semper Fi!
Formula Extreme
Main Motorcycle: 2011 Rocket Roadster
Senior Member
Join Date: May 2005
Location: Brisbane South, Australia
Posts: 625
Other Motorcycle: 2001 Bonneville 43000km
Now that answers a lot of questions. Great photos that will most likely stop the need to for any more baffle removal posts. You should be congratulated.
---
2001 790, A1 removed, K&N air filter, air box intake cover enlarged & restrictor removed, Stock 790 needles 1 shim, 130 mains, 42 pilots, NH Classic Toga Mufflers with modified baffles, Twin Power remap stage 1, 19T, NH Western bars, Dart flyscreen.
Team Owner
Main Motorcycle: '08 Moto Guzzi 1200 Sport
Senior Member
Join Date: May 2005
Location: Hudson, Ohio - USA
Posts: 5,519
Other Motorcycle: 2012 Griso - SOLD
Extra Motorcycle: 1991 BMW R100GS
Ya shudda been a surgeon! These photos could be the supporting visuals for a thesis on bafflectomies. Or something ............

Good job!

Bob
---
GBNF: 03 T100 Luc Org and Silv: 122/42 jets, TORs, 18T, UNI filter, no AI, Polaris bellmouth, Metz 880 tires, Prog. 440 shocks (105/150 springs), 11-1124 frk springs, Thrux frk caps, gaiters, MotoTwin bars, 6024 lamp, htd grips, 12v outlet.
Grand Prix 500
Senior Member
Join Date: Aug 2006
Location: Ottawa Canada
Posts: 105
Fantastic work.
Questions...
At the inlet end, the tube inlet almost looks shiney. Is it just the photo or is there something in that first inlet tube?
What are the two round "bosses" I see in the 2nd expansion chamber? (I'm assuming they are for the mounting bracket bolts)
I wonder why the middle "baffle" has the "Y" type arrangement and why would they do it perpendicular to the rest of the baffle?
Thanks very much for the time spent showing us this.
Colin
SuperSport
Main Motorcycle: 1972 Suzuki TM 250
Senior Member
Some of the pictures were taken after I tried to clean off some of the black carbon with brake cleaner. It was just still wet. When I was taking the pictures they looked all black on my cameras little screen, so I thought it needed some contrast to show up better. I saw that "Y" in the one pipe also. Not sure about that either. It still ends up being basically about a three quarter inch pipe for the exhaust to flow through. And the two bumps are covering the nuts that are welded on the inside for the bracket bolts. Which was a problem when I took these off. One of the bolts was rusted on so bad that it broke the weld loose on the inside of the muffler and I had to grind off the head of the bolt to remove the bracket. It happened on both mufflers.
---
Stop Global Whining!
Semper Fi!
Great pictures, thanks!
I've wanted to do the basic baffelectomy, but hesitated as I couldn't see exactly what I would be bashing even with the good baffelectomy pics. Your pictures cleared all that up.

Great job, thanks again!

Dennis
---
Eggs and bacon. A days work for a chicken, a lifetime committment for a pig.
Site Supporter
Legend
Main Motorcycle: 904cc Bonnie w/magwheels
Senior Member
Good work! No wonder they are so restrictive. Glad mine are in a box, not on the bike...
SuperBike
Main Motorcycle: 2001 Bonnie, 2011 T800XC
Senior Member
Wow. No wonder they make the bike sound like a sewing machine.

I wonder what TORs look like inside. Maybe I'll cut mine open when I've replaced them (they're rusting anyway, so no point in reselling).

--mark

SuperSport
Main Motorcycle: 1972 Suzuki TM 250
Senior Member
Mark, It would be a good comparison. Don't they look about the same, size and shape wise? It was really easy to do, just need a band saw with a metal cutting blade.
---
Stop Global Whining!
Semper Fi!
Site Supporter
SuperBike
Main Motorcycle: 2006 Bonneville T100
Lifetime Premium
Join Date: Oct 2005
Location: Boulder County, Colorado
Posts: 1,553
Other Motorcycle: '76 Bonneville T140v
Extra Motorcycle: '71 Honda CL350
Ah! Very ccol, Lox! I always wondered what went on in there.
How bout a cut-away of your engine next?
:
Similar Threads
Thread
Thread Starter
Forum
Replies
Last Post
Two Tone Muffler

chedd

Air Cooled Twins Technical Talk

12

12-31-2007

04:11 AM

Muffler Meat

drharveys

Biker Hang-Out

21

12-18-2007

01:57 PM

muffler poll

bricktop

Air Cooled Twins Technical Talk

44

04-12-2007

11:20 AM

2002 CF Muffler

motogeezer

Sprint Forum

3

10-06-2006

05:35 PM

muffler disaster

JonCG

Air Cooled Twins Talk

5

08-30-2005

06:28 PM
Posting Rules

You may not post new threads

You may not post replies

You may not post attachments

You may not edit your posts

---

HTML code is Off

---