New Member
Minitwins
Main Motorcycle: Thruxton
Join Date: Jun 2013
Location: San Francisco
Posts: 15
Other Motorcycle: I wish.
2013 Thruxton
---
Was hopped up to take my bike out for a late, summer afternoon ride. At the stop light right before the freeway entrance I downshifted into first and voila, my shifting linkage snapped in two. Guess it could've been worse? I could've been stranded 30 miles away.
Bummed of course, especially since she's still relatively new- almost 5000 miles though (obviously right before service).
History:
She has been dropped on her left side at a stand still and when I took her to my local shop (Munroe Motors in San Francisco) to replace the bent lever, they did so but did nothing with the linkage.
Don't know what happened but I've read up that this has happened to other riders. I just haven't seen any step-by-step suggestions. Or do I even need one? Is this a nuanced job?
I really, really want to do this myself. I have no experience doing this kind of thing but I know I can do it if I had the proper instructions. I do have a good set of tools and not afraid to get my hands dirty. I am not wanting to tow my bike to the shop if this is something I can learn.
Does anyone know if there are any good tutorials out there on how to do this? I'm new to the Forum and would appreciate input!
- Katherine
PHOTOS: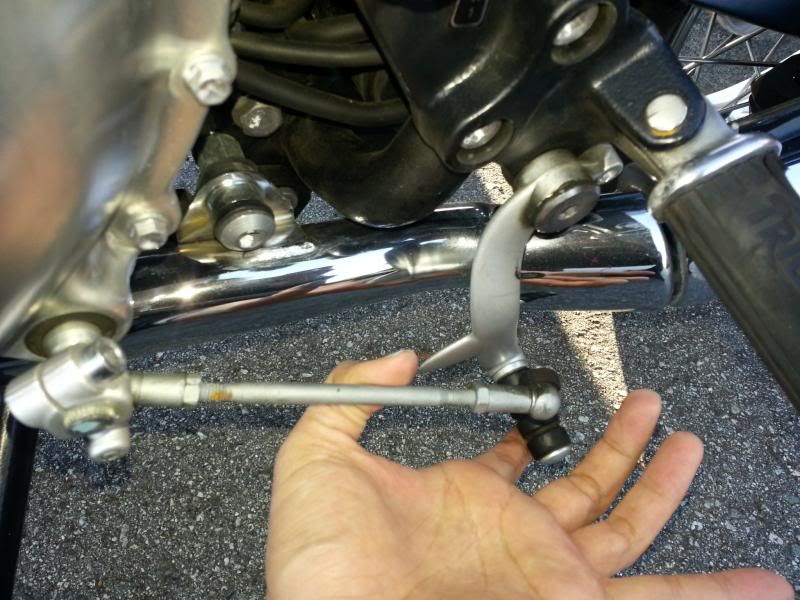 ---
Last edited by RationalRider; 06-15-2013 at

12:37 AM

.
Lifetime Premium
Site Supporter
Nova
Main Motorcycle: 2009 Bonneville SE
Join Date: Jun 2009
Location: Asturias, Spain
Posts: 19,570
Other Motorcycle: Yamaha XV1100
Extra Motorcycle: Qingqi QM200GY-BA
---
Last edited by Forchetto; 06-14-2013 at

11:40 PM

.
New Member
Minitwins
Main Motorcycle: Thruxton
Join Date: Jun 2013
Location: San Francisco
Posts: 15
Other Motorcycle: I wish.
From my third picture above, you can see that a piece of a screw has broken off inside my shift pedal. The seal is fine so I don't need that. Do I just need the Screw,Cap/Hd (#32) to screw in the shift rod into my shift pedal?

What tools would I need?
Senior Member
SuperStock
Main Motorcycle: SE Bonnie
Join Date: Mar 2010
Location: Bettendorf Iowa
Posts: 223
Other Motorcycle: Honda nt 700
Extra Motorcycle: Honda CRF250L
Methinks you will need to buy a new part.. think the correct term is a "Heim" joint There are differences and I the one that is broken on your bike may have a left hand thread but I don't think so from your pics.. ..installation requires 10 mm metric wrenches..Best advice is to take the broken piece to the dealer to be sure they order the right part....They may even have it on hand if your lucky.Once you have the new part it is a very simple job to put it back together...the only thing you have to worry about is the positioning of the lever and this is achieved by the by the number of turns you screw your new piece onto the shifting rod arm..if you can screw it back on with the same number of turns as the broken one you should end up pretty close.
---
Last edited by Gina 1; 06-15-2013 at

06:15 AM

. Reason: wrong description
New Member
Minitwins
Main Motorcycle: Thruxton
Join Date: Jun 2013
Location: San Francisco
Posts: 15
Other Motorcycle: I wish.
Thank you so much for the reply Gina! I was confused because the part that "I think" I needed didn't have a label/title in Forchetto's diagram. I will take it to the dealer and report back exactly what part I actually do need and what it looks like after =)
Senior Member
World SuperBike
Main Motorcycle: Triumph Thruxton EFi
Join Date: Nov 2010
Location: Preston, North West UK
Posts: 2,318
Other Motorcycle: Yamaha R1, Honda CB1000R
Looking at the photo's the part that is broken is an integral part of the ball joint which is screwed onto the end of the shaft, I'm not sure they are available separately. The part is like a ball with a threaded shaft which is fitted into the part on the end of the shaft you are holding in the last photograph. You presumably have the remainder of the thread still screwed into the gearchange pedal which you will have to remove, hopefully that will be easy enough now that there is no tension on it.
Senior Member
Pole Position
Main Motorcycle: 2005 FZ1
Join Date: Jan 2009
Location: Daytona
Posts: 3,387
Other Motorcycle: FZ 09
Extra Motorcycle: 2013 Standard Aurum Gold
When I owned my Sprint I found some people had this same problem even without a drop.( fragile ball joint) What some one suggested just as a road side repair was using a shift lever from some Jap bike only reversed so there is no linkage but it would get you home. Same spline diameter and reachable with your toe, but gears reversed obviously.
Maybe someone has further knowledge.
If you find out you could always carry it as a spare.
New Member
Minitwins
Main Motorcycle: Thruxton
Join Date: Jun 2013
Location: San Francisco
Posts: 15
Other Motorcycle: I wish.
All Fixed: Shifter Linkage
---
So I figured it out.
The heim joint doesn't come separately from the gearshift foot lever. They come Attached! Therefore, if you break your shifter linkage at the heim joint, where it connects to your foot lever (like I did) you'll need an entirely new gearshift pedal!
The Triumph dealership here in San Francisco is awful with customer service and cheap, so they wouldn't replace it via warranty and instead offered me a discount of $20. To get it and get the heck out of there I paid for it but will never be back.
As for my Thruxton? She's all better. I've attached photos of the new piece before installation and after.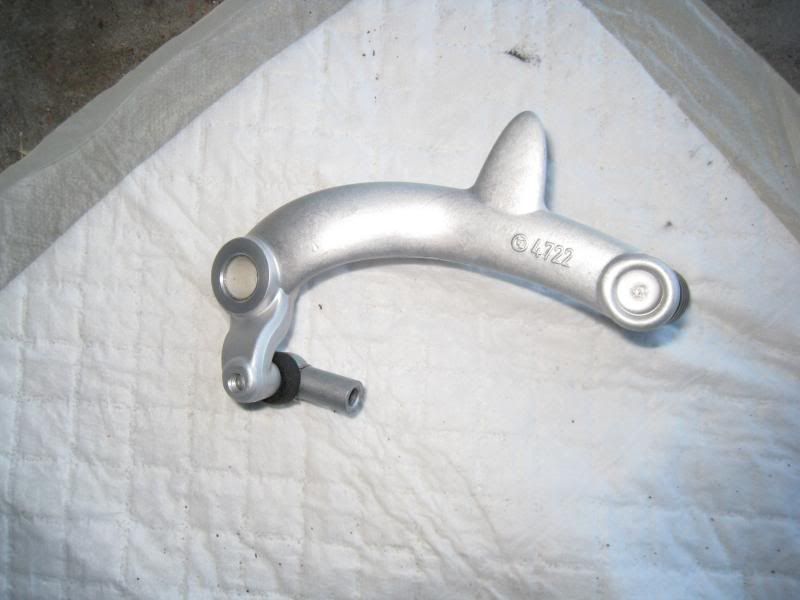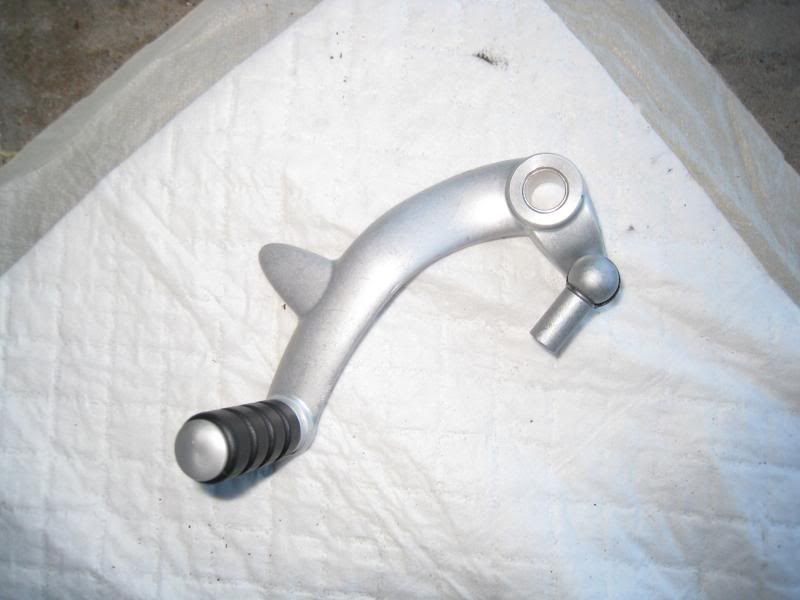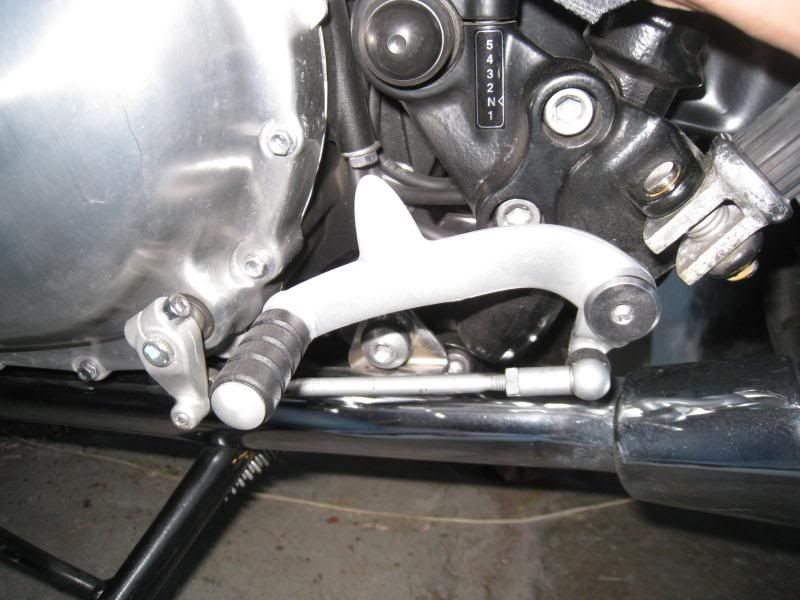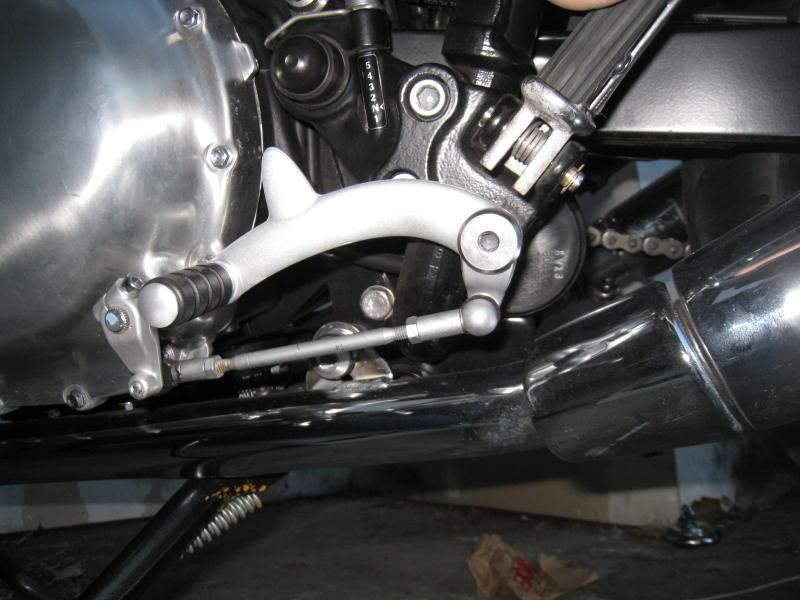 Senior Member
Formula Extreme
Main Motorcycle: 2011 Thruxton
Join Date: Mar 2011
Location: Pickering, Ontario, Canada
Posts: 552
Other Motorcycle: 2002 Tiger 955i
Extra Motorcycle: Mrs. Jayell's '13 CB500F
Glad you got it worked out, RR. I reckon it cost you about sixty bucks?
Your lever looks to be sitting very high. This might make shifting a bit uncomfortable. Of course, it might also be the angle of your photo. For reference, here's a photo of the linkage on my Thruxton, untouched since new. You can see how much lower my shifter sits:
In order to lower, simply crack the jam nuts loose and
lengthen
the rod slightly. It's all down to personal preference, though.
P.S. Please, no wise cracks about the pristine peg feeler!
New Member
Minitwins
Main Motorcycle: Thruxton
Join Date: Jun 2013
Location: San Francisco
Posts: 15
Other Motorcycle: I wish.
Hi Jayell: You were absolutely right. I hadn't ridden it yet when I posted that picture and sure enough, it was definitely set too high. Obviously it was a quick fix with a few turns and then I re-tightened the nuts - voila, all good.

It is actually shifts BETTER than when my local San Francisco dealer fixed it 9 months ago. Who would've thunk it?More reason to learn more about my bike ASAP.

Thanks for the tip. It was well written =)
Posting Rules

You may not post new threads

You may not post replies

You may not post attachments

You may not edit your posts

---

HTML code is Off

---