Member
Grand Prix 250
Main Motorcycle: Bonniville
Join Date: Oct 2011
Location: brighton
Posts: 45
Hi guys fixed it
it was the Fuse thanks for all your help again
Member
Grand Prix 250
Main Motorcycle: Bonniville
Join Date: Oct 2011
Location: brighton
Posts: 45
Just to prove it here it is at work ha ha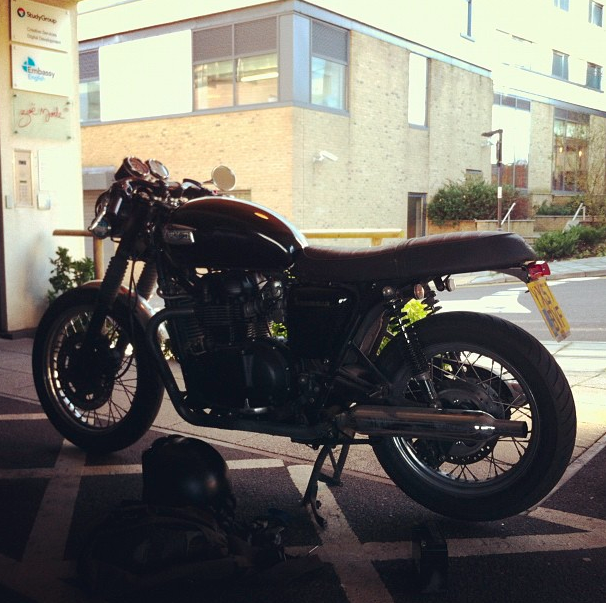 Member
Grand Prix 250
Main Motorcycle: Thruxton
Join Date: Feb 2012
Location: St. Louis, MO
Posts: 71
Senior Member
World SuperBike
Main Motorcycle: 2010 Bonneville SE
Join Date: Mar 2010
Location: Staffordshire UK
Posts: 2,441
Quote:
Originally Posted by
mattwright
Hi guys fixed it
it was the Fuse thanks for all your help again
Matt - Due to my cavalier attitude when working on my flasher system I blew countless fuses. In the end, to save me time I replaced all the fuses on the bike with these...
http://www.rallydesign.co.uk/index.p...h=420_421_1716
Its easy to see when one of these has blown, I just worked with the fuse box cover removed.
Senior Member
Grand Prix 500
Main Motorcycle: 07 Moto Guzzi Griso
Join Date: Nov 2012
Location: Greenville, NC USA
Posts: 113
Or
disconnect the battery
before working on wiring.. just saying.
New Member
Minitwins
Main Motorcycle: 2010 Bonneville Black
Join Date: Feb 2011
Location: Tennessee
Posts: 13
Other Motorcycle: '69 Triumph Trophy TR25W
Remember, Lucas lights have three position switches:
Dim, Flicker, and OFF.
Senior Member
World SuperBike
Main Motorcycle: 2010 Bonneville SE
Join Date: Mar 2010
Location: Staffordshire UK
Posts: 2,441
Posting Rules

You may not post new threads

You may not post replies

You may not post attachments

You may not edit your posts

---

HTML code is Off

---