Senior Member
SuperStock
Main Motorcycle: BMW R1200RT
Join Date: Aug 2012
Location: Toronto, Canada
Posts: 206
Other Motorcycle: 2002 T100 Centennial
Looking for a 7 convex headlight reflector
---
Hello,

I have a 2002 T100 Centennial.
In an effort to make it look more retro I would like to change from a flat headlight lens/reflector to a convex one.

I drive on the right hand side of the road (Canada) and my current OEM headlight has a parking light in it.

Has anyone done a swap before and if so what did you use?
Member
Grand Prix 125
Main Motorcycle: None at this time
Join Date: Sep 2012
Location: Gatineau, Canada
Posts: 39
Senior Member
Grand Prix 500
Main Motorcycle: Bonneville
Join Date: Oct 2010
Location: Tasmania
Posts: 131
Other Motorcycle: Honda Postie
Extra Motorcycle: Suzuki DL650 V Strom
Hello
Including freight that is just under $44. Very good price, I paid $100 for a Hella here in Australia. I wonder what quality they are, probably ok. Country of manufacture? Does not matter these days, as long as quality is ok.
Member
Grand Prix 250
Main Motorcycle: Bonneville T-100
Join Date: Dec 2005
Location: Calgary, Alberta,
Posts: 79
Other Motorcycle: HONDA 550 CBK 1977 mod
Just put on a Cibie from Daniel Stern, with an Osram bulb, (65/70 W). Better light in the dark. Maybe will try an even larger bulb next ? I also revired with 10 gauge wire and relays direct from battery for 1 volt more at hte headlight. See 'how to' by Ecosse at this forum. It is well worth it for about $50 for the wiring job.

Norse
Senior Member
World SuperBike
Main Motorcycle: Two wheeled
Join Date: Jul 2007
Location: Anytown, USA
Posts: 2,415
Other Motorcycle: several
Extra Motorcycle: next one
I put in a Lucas repop from Emgo years ago. I recall having to get a new halogen bulb that converted over to the newer 3-prong connector (H4?). There was a parking lamp bulb too.

I discovered that a stock headlight rim (ring) from the America or Speedmaster will fit a standard/T100/Thruxton headlight shell (bucket). There are noticeable differences however. Externally, the rim tucks-in tighter to the lamp edge almost eliminating the air gap between the two. There is no external lamp alignment screw (or alignment mechanism) and maybe it's an optical illusion, but the cruiser rim seems to be slightly deeper with a less rounded profile.

Internally... and relevant to this thread... the lamp mounting system is completely different. Whereas the Std/T100/Thruxton rim has an inner lamp mounting plate with various alignment hardware, the cruiser rims use a single formed wire "clip" that snaps-in a groove and pinches the lamp to the rim. I think this latter rim style will make fitting a new non-OEM lamp much easier.

I suspect the lack of the horizontal alignment feature is because the cruiser headlights are bottom mounted negating the need for internal adjustment.

/M
---
"With integrity, nothing else matters. Without integrity, nothing else matters."
Senior Member
SuperStock
Main Motorcycle: BMW R1200RT
Join Date: Aug 2012
Location: Toronto, Canada
Posts: 206
Other Motorcycle: 2002 T100 Centennial
Ohhhhh, that's great information and really critical. Thanks so much for posting that.
Senior Member
SuperBike
Main Motorcycle: 2003 Triumph T100
Join Date: Nov 2005
Location: Waldheim, LA
Posts: 1,408
Other Motorcycle: 2007 M-G Cali Vintage
You might try looking around the Domi Racer site. They handle a bunch of the original NVT parts (including reproduction parts). I get all my footpeg rubbers and mufflers from there.
https://www.domiracer.com/homepage.html
---
2003 Bonneville T100 and 2007 Moto Guzzi California Vintage
Senior Member
SuperStock
Main Motorcycle: Thruxton
Join Date: Jan 2010
Location: Madrid, Spain - formerly Wigan, UK
Posts: 283
Other Motorcycle: Rieju Tango
Hella part number 1A6 002.395-071 is a direct replacement. Cost in Europe is about 40 Euros from most any car parts shop.
---
07 Thruxton: TEC 2 into 1, K&N, TTP Breathe Bellmouth, 135 mains, 40 pilots, std. needles, 1 shim (0.65mm). All baffles removed. Bitubo Fork Cartridges. Bitubo Rear Shocks. TEC Steering Damper. 3 Pot Nissin (Honda) brake caliper.
Senior Member
SuperStock
Main Motorcycle: BMW R1200RT
Join Date: Aug 2012
Location: Toronto, Canada
Posts: 206
Other Motorcycle: 2002 T100 Centennial
I think the Hella is a flat lens. I am looking for convex.

I found 2 places that have the Cibies. One wants $90. each and the other wants $45. for a pair. Just waiting to hear back from the $45. place to see if they are the right ones and have a parking light.
Senior Member
Moto Grand Prix
Main Motorcycle: 04 cafed Bonnie
Join Date: Aug 2005
Location: Toowoomba Queensland Australia
Posts: 2,620
Other Motorcycle: '68 Benelli 350'
Extra Motorcycle: '60 Morini Tresette 175
I put one of these on my bike, perfect fit, low/high beam. no parking light.
link
http://www.ebay.com.au/itm/NRG-SB701...#ht_1996wt_906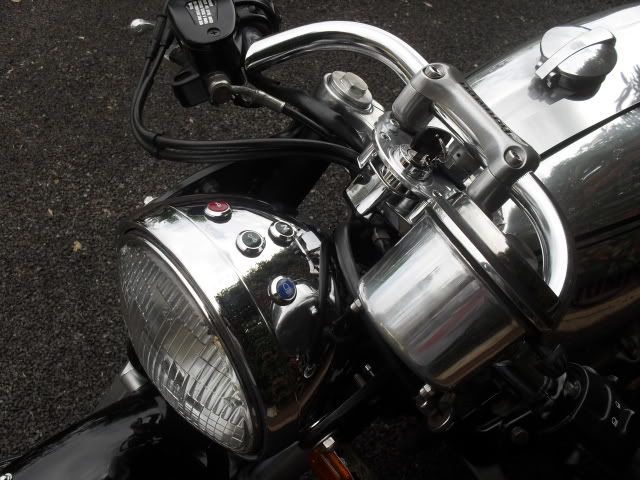 ---
"Yeah, look.....Baz just vanished, like a.....fart in a fan factory, ya`know?! ".
Posting Rules

You may not post new threads

You may not post replies

You may not post attachments

You may not edit your posts

---

HTML code is Off

---