Member
Grand Prix 125
Main Motorcycle: 01 Bonneville
Join Date: Dec 2011
Location: Las Vegas, NV USA
Posts: 39
Helmet lock suggestions and placement
---
I've done a search, not extensive but I'm looking for suggestions on a helmet lock for my Bonnie and where folks have mounted them. I saw the Sato (?) helmet lock that mounts on the left side shock mount on NB website. That looks promising. I'd like the lock to pull double duty, secure my helmet when parking the bike when i'm out and about and to secure a second passenger helmet when in transit (with bungie net or something similar in addition). Look forward to everybody's input. Thanks.
Sent from my iPhone using
Motorcycle.com Free App
Banned
Team Owner
Main Motorcycle: 2010 Bonneville T100
Join Date: Mar 2010
Location: Philadelphia, PA USA
Posts: 4,433
Other Motorcycle: 2007 150cc Retro-scooter
I don't use a dedicated helmet lock, I have a retractable cable lock sold for travel, a Master Lock Trimax. About 3 feet long, setable three-digit combo, I run the cable through the visor on my full face and through a convenient bar or the top handlebar clamp (I have a dogbone). It also lets me remove my armored overpants and jacket and lock them up too.
Senior Member
Formula Extreme
Main Motorcycle: 2008 B&W T-100
Join Date: Jul 2008
Location: Tucson, AZ
Posts: 683
I use this:
www.helmetsecure.com
and have been able to lock two helmets or even my modular and my jacket using the cable through one of the sleeves.
Mounted mine in the "cable up" position to keep wetness out of the lock cylinder. It's self-storing and easy to use.
Senior Member
SuperSport
Main Motorcycle: Bonneville
Join Date: Oct 2007
Location: Texas coast
Posts: 968
I hang my helmet on my throttle grip with the D-rings over the brake lever and put a padlock on the brake lever to secure it.
---
2005 Bonnie, Sleepers and Unifilter, AI gone, restrictor gone, Modre's peg kit, headlight & brake modulator, tach, NC wind deflector, gaiters, steibel, vmax mirrors, Hagons & Progressives, PIAA.
http://TexasCoastGeology.com
Senior Member
SuperStock
Main Motorcycle: '07 T100
Join Date: Apr 2012
Location: Seattle
Posts: 246
Senior Member
Powerbike
Main Motorcycle: 2012 Thruxton
Join Date: Oct 2011
Location: Wooster, Ohio
Posts: 387
Other Motorcycle: 2003 Ducati M800Sie
Extra Motorcycle: 2001 BMW R1100R-L
My friends and I each bought one of those at the Cycle World Int'l Show in Cleveland earlier this year. The seller included a coiled lanyard, but I carry one I made that's longer & heavier in my back pack. All of the ones we bought have a rubberized coating, but I've noticed ads lately making that an option. One of the best features, which is probably common for locks like this, you can change the combination to anything 3-digit you want.
I set my helmet on the seat, which isn't as stable as I'd like, and run the lanyard through my chin bar and then to the passenger peg outrigger. I hope to come up w/ some way of securing my helmet to the seat as it can fall too easily w/ such a crowned seat.
---
"...I am a Cafe Racer myself, on some days---and many nights for that matter---and it is one of my finest addictions..." Hunter S. Thompson
---
Last edited by bluesman77; 11-04-2012 at

01:06 PM

.
Senior Member
Formula Extreme
Main Motorcycle: 2012 Blue/White Bonnie SE
Join Date: Aug 2012
Location: Columbia, MD
Posts: 869
Other Motorcycle: 2013 Ninja 1000
Extra Motorcycle: 2012 Yamaha FZ8
+1 on the Helmetlok. I hook the lock through the helmet D-ring then attach it to my bar end mirror. I then place the helmet on top of the mirror (gently so I don't have to re-adjust it when I return).
Member
Grand Prix 125
Main Motorcycle: 2010 Thruxton
Join Date: Nov 2011
Location: Langley, WA
Posts: 31
Other Motorcycle: 1942 BSA
The Helmetlok works great. Fits easily in your pocket and secures around your mirror. While it wouldn't be too hard to remove with some tools it certainly is enough to keep opportunists honest.
Sent from my iPhone using
Motorcycle.com App
Senior Member
Formula Extreme
Main Motorcycle: '08 Scram
Join Date: Jul 2008
Location: Maui
Posts: 464
Other Motorcycle: What!?!?
I use a gun lock.

---
'08 Scrambler. Arrow 2-1, ARK, AI gone, thrux needles, 150/40.
Senior Member
SuperBike
Main Motorcycle: 2006 BONNEVILLE T100
Join Date: Mar 2008
Location: Miami, Florida United States of America
Posts: 1,686
Other Motorcycle: 1999 TITAN PHOENIX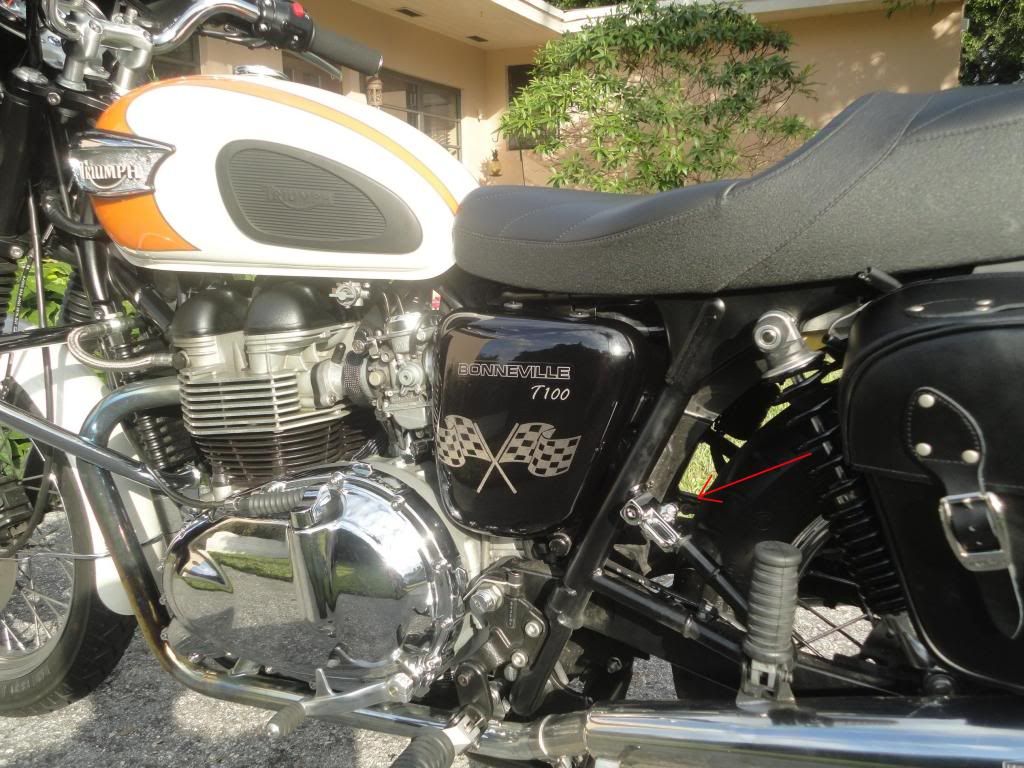 My helmet hangs nicely with this, and using the rear peg, it holds it off of the hot pipe.
Posting Rules

You may not post new threads

You may not post replies

You may not post attachments

You may not edit your posts

---

HTML code is Off

---