Grand Prix 250
Main Motorcycle: 2005 Bonneville
Member
Join Date: Feb 2012
Location: Santa Rosa
Posts: 47
Grand Prix 125
Main Motorcycle: Scrambler
New Member
Join Date: Oct 2012
Location: England
Posts: 25
Many thanks
---
Think I might go with alpina, 695 if you send them your hubs, you get back completely built wheel to your spec, I lie that!
Cheers
Wylie
SuperBike
Main Motorcycle: 04 Thruxton
Senior Member
Join Date: May 2008
Location: Marin (Bay Area), USA
Posts: 1,733
Other Motorcycle: 13 Str Trple R
Extra Motorcycle: 16 Thruxton R
is that GBP695 if you send your hub per wheel? Anyone know how much that is in the US?

From memory its around $2300 to purchase a Alpina wheel set for the Thruxton.
---
FCR, Uni, 813 cams, Works shocks, drilled Ricor valves, Pieman ignitor, green springs, Beringer caliper, preds, damper, brace, Corbin, custom tinware, JMC swingarm, Brembo radial M/C, oil cooler, rearsets, clip ons, tubeless rims, Acewell, T/Clamp
Grand Prix 125
Main Motorcycle: Scrambler
New Member
Join Date: Oct 2012
Location: England
Posts: 25
Alpina
---
Yes that's for a pair, Karl is the guy I have been dealing with, v helpful
Cheers
Wylie

Ps. Just fitted a guzzi Stelvio ally box to the rack, looks sweet....talking of which, I reckon the max weight will be one small bag of sweets!
SuperBike
Main Motorcycle: Triumph Bonneville
Senior Member
Join Date: Aug 2008
Location: Wirral UK
Posts: 1,786
Quote:
Originally Posted by
gumpt1oo
I bought a pair of Talon wheels from Devon Rim Co.
They are excellent, Talon hubs, straight pull stainless spokes, laced to Behr alloy rims.
http://www.devonrimcompany.com/
they are not listed on the website, for info contact Doug Richardson 01769574108
+1,yes I have the same wheels,Doug is top class.
Plasma.
Grand Prix 250
Main Motorcycle: Yamaha WR250R
Member
Join Date: Jul 2012
Location: los angeles
Posts: 66
Other Motorcycle: 2006 T100
I'm seriously thinking of getting the Alpina wheels. Also very tired of cleaning and protecting the chrome on the current wheels. Here's the reply i got from Aplina usa with the pricing...


Hello James
The complete wheels are $2275 Shipped
with the RAT Discount it would be $2075 Shipped
Rim and Hub standard color is Black. Color options of Blue, Gold, Silver, red, orange are at no additional cost

The kits are $1100 Shipped
I think a complete wheel set would be better
as most wheel builders are not familiar with the Alpina Tubeless wheel assembly

Lead time for wheels are 2-4 weeks
FYI
I'm at the EICMA MC expo in Milan and we have news that we can do 5" rears.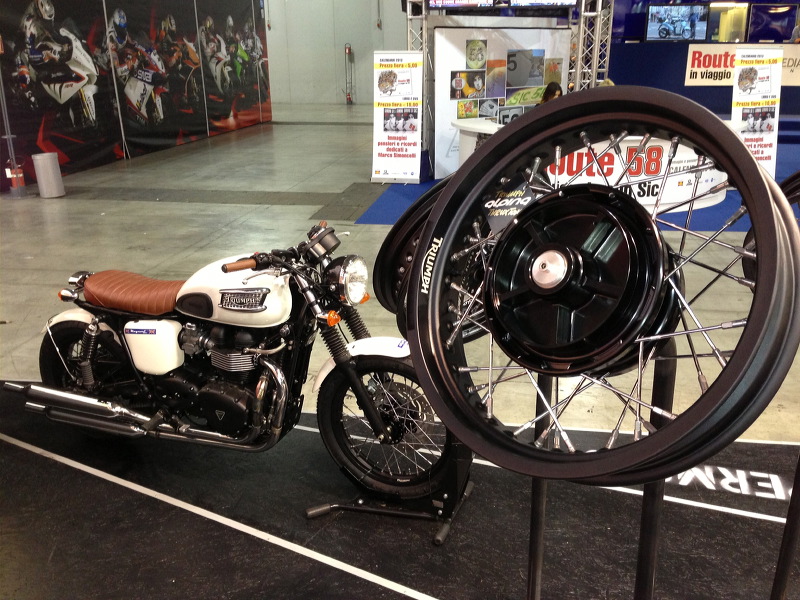 Quote:
Originally Posted by
onejlove
I'm seriously thinking of getting the Alpina wheels. Also very tired of cleaning and protecting the chrome on the current wheels. Here's the reply i got from Aplina usa with the pricing...


Hello James
The complete wheels are $2275 Shipped
with the RAT Discount it would be $2075 Shipped
Rim and Hub standard color is Black. Color options of Blue, Gold, Silver, red, orange are at no additional cost

The kits are $1100 Shipped
I think a complete wheel set would be better
as most wheel builders are not familiar with the Alpina Tubeless wheel assembly

Lead time for wheels are 2-4 weeks
---
JCPAKBIKES.COM
alpinawheelsusa.com
THRUXTON GOODIES
-
S3 GOODIES
-
R3 GOODIES
Posting Rules

You may not post new threads

You may not post replies

You may not post attachments

You may not edit your posts

---

HTML code is Off

---