Member
Supersport 400
Main Motorcycle: 2001 Bonneville
Join Date: Jul 2012
Location: Chicagoland
Posts: 94
Ikea sells Triumph parts?
---
I was inspired by OldSkoolFool's excellent idea to make gauge pods out of Thermos lids:
http://www.triumphrat.net/club-cafe/...want-some.html
But I wanted a nice shiny gauge cup with a flat bottom, the Thermos lids had a round bottom and satin finish. I went looking for something a little different. First I found some camping mugs at Dickhead's Sporting Goods, they were OK but the diameter was a little tight, they had handles and they were $12.99 each.
I was driving by Ikea and decided to see what they had, with black plastic gauge cups in hand, I searched all over the massive kitchen department but found nothing, nothing in lighting either. I searched the bathroom department and was getting frustrated. But there on the last display was a stainless steel canister for $12.99. Perfect diameter! I reached down to get a box and bonus, it was two for $12.99.
So here is what I bought, it is called Savern. Note how the stock cups fit in the canisters.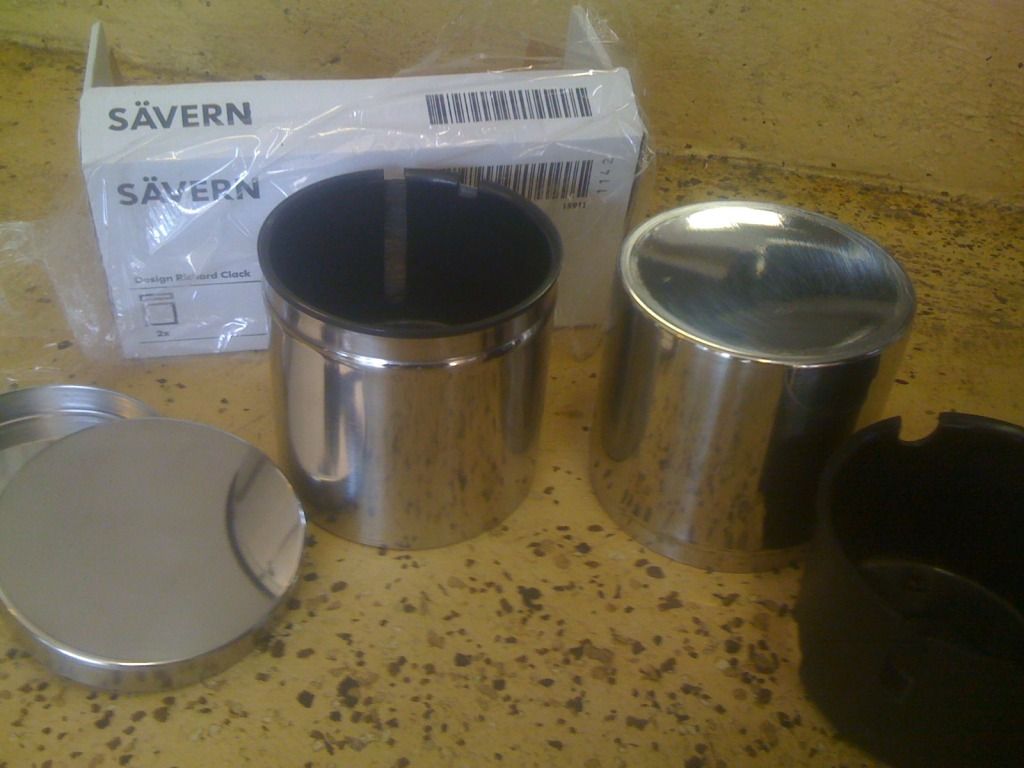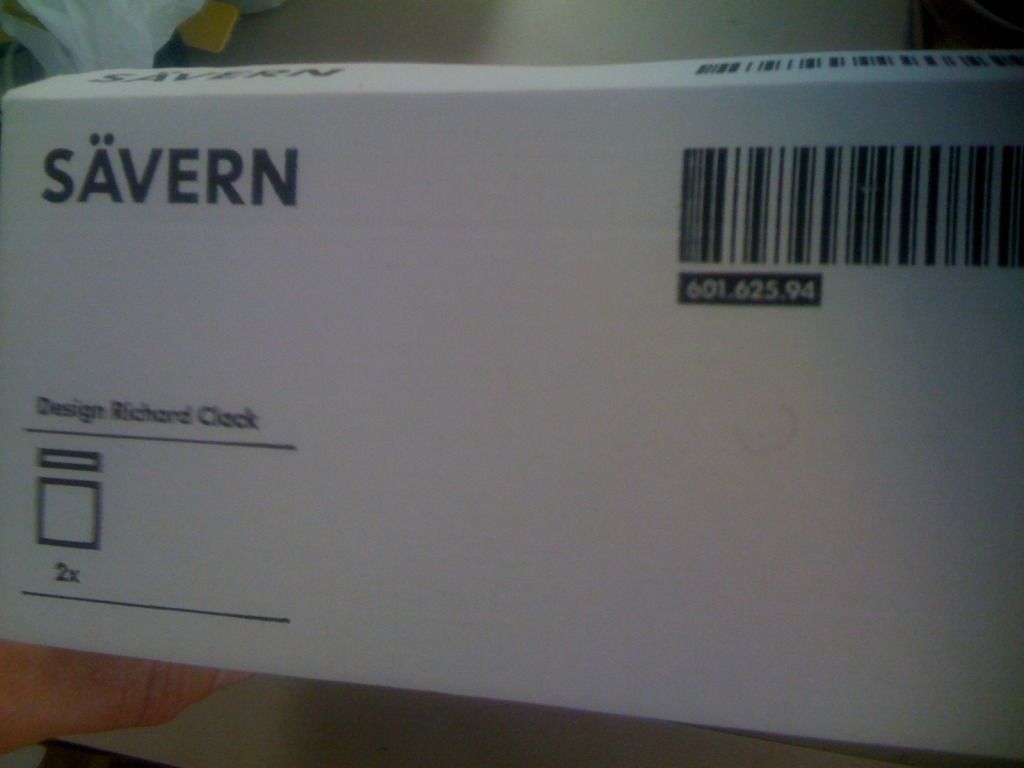 I decided I would cut these down and use them as covers for the stock cups. That way, the stainless would butt up against the lip on the stock cups to give a nice finished edge. I measured the depth and used a Dremel tool with a cut off wheel to whack about an inch off. I clamped the Dremel in a vice and set up a fence so I could just turn the canisters to get consistent depth. Then I drilled the holes and cut the various slots. I would caution that the face surface is easy to scratch as can be seen in my finished pics, I should have put a soft cloth down while making the depth cut.
I'm pleased with the results and how they look with my D9 panel and Norman Hyde ACE bars.
Oh and the lids from the canisters, great little trays for holding parts.
---
Last edited by truckdude; 09-01-2012 at

06:36 PM

.
Senior Member
Powerbike
Main Motorcycle: 2002 Bonneville
Join Date: Jun 2011
Location: North Carolina
Posts: 393
Other Motorcycle: 2007 Tiger 1050
Extra Motorcycle: 1964 Bonneville Project
looks great! thanks for sharing.
Premium Member
Site Supporter
Team Owner
Main Motorcycle: 2009 Bonneville SE
Join Date: Sep 2009
Location: Fairfax County, VA
Posts: 4,858
Other Motorcycle: 2011 BMW R1200RT
Awesome stuff, truckdude. I like that kind of thinking!
---
"
The views expressed here are my own and do not represent my employer's position or opinion
."
Member
Grand Prix 250
Main Motorcycle: 2005 Triumph Thruxton
Join Date: Dec 2010
Location: Thousand Oaks, CA
Posts: 44
Other Motorcycle: 1970 Honda CT90 Trail90
Extra Motorcycle: 1964 Honda CA105T Trail55
Too bad they're only available at a local Ikea store:
http://www.ikea.com/us/en/catalog/products/60162594/
But fortunately for me, I have an Ikea that's not too far away (Burbank)! I'm definitely going to try this mod. Thanks for posting this!
Premium Member
Site Supporter
Team Owner
Main Motorcycle: 2003 Bonnie
Join Date: Nov 2010
Location: Edinburgh
Posts: 5,424
Other Motorcycle: 2003 Speed Triple 955i
Extra Motorcycle: Monkeybike!
I bought my first Bonneville at Ikea, but it came in 9475 separate pieces, and no allan key. Bugger.
---
-*-*-*-*-*-*-*-*-*-*-*-*-*-*-*-*-*-*
If knowledge can create problems, it is not through ignorance that we can solve them.
Isaac Asimov
-*-*-*-*-*-*-*-*-*-*-*-*-*-*-*-*-*-*
Senior Member
Formula Extreme
Main Motorcycle: 2009 Thruxton
Join Date: Apr 2012
Location: Ontario
Posts: 556
Nice find - thank you for posting! I just checked and they have them here in Canada too - C$14.99
Senior Member
World SuperBike
Main Motorcycle: 2010 Bonneville SE Black
Join Date: Jun 2011
Location: Brandon, FL
Posts: 2,322
Other Motorcycle: 2011 Rocket III Touring
Very Nice!!
---
...exposing Forchetto's real identity since 2011...
Senior Member
SuperBike
Main Motorcycle: 2006 BONNEVILLE T100
Join Date: Mar 2008
Location: Miami, Florida United States of America
Posts: 1,686
Other Motorcycle: 1999 TITAN PHOENIX
Me likey!
BTW - how do you polish those scratches off of the stainless steel so that it comes out smooth again? I have some stainless steel slip-on pipes that could use that treatment on some areas.
Premium Member
Site Supporter
Formula Extreme
Main Motorcycle: 2004 TBS (modified)
Join Date: Jul 2012
Location: New Jersey
Posts: 816
Other Motorcycle: 1998 TBS (stock)
Extra Motorcycle: 2008 Daytona 675
You can order them through amazon as well... at a premium of course


Sent from my Motorcycle iPhone app
Member
Supersport 400
Main Motorcycle: 2001 Bonneville
Join Date: Jul 2012
Location: Chicagoland
Posts: 94
Posting Rules

You may not post new threads

You may not post replies

You may not post attachments

You may not edit your posts

---

HTML code is Off

---