Formula Extreme
Senior Member
Join Date: Nov 2004
Location: Noosa, Australia
Posts: 896
Twin disc conversion for Thruxton
---
Well, it's actually a Scrambler but for the purpose of this exercise, same thing. I was wondering if anyone had done the mods needed to fit twin discs to the Triumph forks, eg, weld on lugs and do whatever must be done to the hub to bolt up another disc. Before I hear any cries of "not possible", it used to be a common mod to single disc bikes years ago. Dave
---
Only a biker knows why a dog sticks it's head out of a car window

SuperStock
Main Motorcycle: '09 T100
Senior Member
Join Date: Apr 2010
Location: New England NSW Australia
Posts: 246
Other Motorcycle: '12 KLR650
Have a look here Dave
http://www.triumphrat.net/twins-tech...sk-bonnie.html
I guess it would be possible to weld lugs on the other leg but for the amount of rooting about that would cause a front end swap would be a better option. You can put anything you like on it with varying amounts of engineering.
Check out a Norman Hyde Brembo conversion or a Beringer disc & 6 piston caliper as an option first....especially if this is all about stopping power.........both of those should be able to send you over the handlebars.
---
"I may be drunk, madam, but you are ugly and in the morning I shall be sober " - W Churchill
World SuperBike
Main Motorcycle: 2008 Thrux
Senior Member
Join Date: Mar 2008
Location: London, ON Canada
Posts: 1,893
Other Motorcycle: 2010 Speed Triple
style or function ? my 6 pot Pretech with 14 mm Nissin master cylinder and stock rotor can lift the back end up with a Michelin Pilot Road 2CT 120 mm front tire. and i'm 200 lbs with gear. do you really need more than that ? my bike does better than 222 km/h as well.
---
2008 Thrux. 1087 TPUSA motor. SOLD
2010 Speed Triple. SOLD
Formula Extreme
Main Motorcycle: '04 Thruxton
Senior Member
Join Date: May 2004
Location: Gawler, South Oz
Posts: 491
Rotors
---
---
"Whale Oil Beef Hooked"
Site Supporter
Legend
Main Motorcycle: 904cc Bonnie w/magwheels
Senior Member
No, never. Why would anyone want to do that?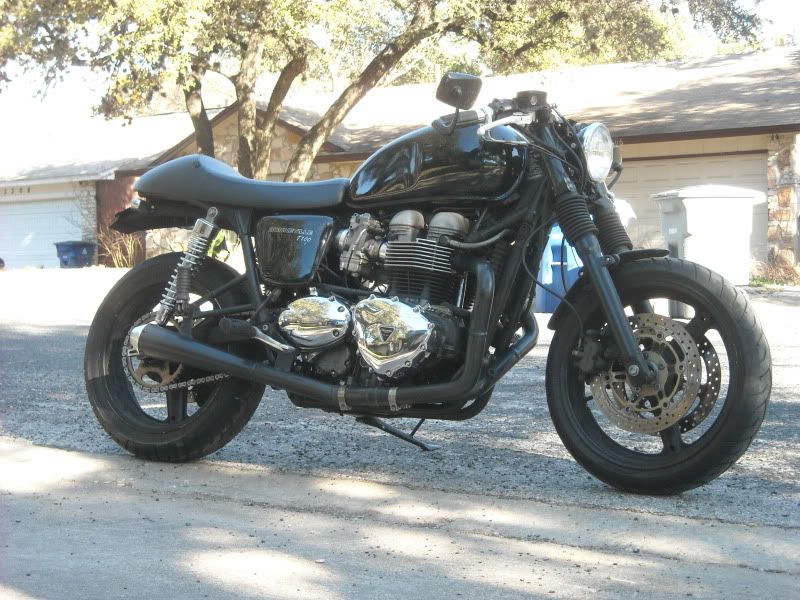 Site Supporter
Formula Extreme
Main Motorcycle: 1068cc '05 Thruxton
Lifetime Premium
Join Date: Jan 2009
Location: Turku, Finland
Posts: 489
+1 on what NorthernThrux said...

...style or function?

Pretech's 6-piston caliper bolts straight on and take cheap and readily available EBC FA190 HH (sintered) pads. Dump the weedy 11mm Nissin master cylinder and replace it with a 14mm one (off, for instance, a Speed Triple - about £20 on ebay) and you'll only need more stopping power if you're Mr. Rossi.

Of course, if you do the brakes, you're really gonna need to sort out the front suspension in order to get the best out of it (even a fairly cheap fix such as a basic set of Progressive springs and some slightly heavier fork oil will go a long way).
---
~Thruxton~Sport Evolution 1100~FCRs~790 cams~shim-under-bucket~+1.5mm valves~45mm headers~Ignitech CDI~m-Lock~m-Unit~Race Tech springs~Ricor Intiminators~Hagon Nitros~Pretech caliper~520 chain~wide 17" rims~sticky rubber~
World SuperBike
Main Motorcycle: '08 claret bonnie
Senior Member
Join Date: Jun 2008
Location: VIC, Australia
Posts: 1,945
Other Motorcycle: '69 Kawasaki Samuri
Nope
---
The others have it. Mind if you are an engineer who can pass all the mods that might be a different matter. With the talk that has been on the web re: insurance i think this would be very debatable. I have a 3 pot Nissin and cant see that you could use more than that.
If you want an aesthetic look then you might be best to look at aset of forks from another bike that will fit.
SuperBike
Main Motorcycle: 04 Thruxton
Forum Liaison
Join Date: Feb 2009
Location: North GA Mountains
Posts: 1,473
Other Motorcycle: 05 Tiger
I'll be interested to see what you come up with. I'm looking at going down the same route myself and have been doing some research on ideas for a bit now.
SuperBike
Main Motorcycle: '07 Black
Senior Member
Join Date: Nov 2008
Location: Prescott, AZ
Posts: 1,579
I too am interested in doing a bit better in the front brake, but I don't want to go the whole route of changing the forks out for a twin disc setup, nor do I have the $700+ for a Berringer/Pretech aftermarket caliper. Apparently most of the Hondas that act as donors for 3-piston calipers are not marketted here in the US, but I did find this potential unit, courtesy of Beemerrich:
http://www.cheapcycleparts.com/model...semblies/20467
It should fit, and at < $300 delivered it may be a viable option, but I'd like a little more proof of that before I lay out the jack. It'd also be nice to know if it's black (preferred).
Anyone? Bueller? Bueller?
---
"Cognito Ergo Wrenchum"
Pole Position
Main Motorcycle: 2004 Thruxton
Senior Member
Join Date: Jan 2008
Location: Grand Rapids, Michigan
Posts: 3,867
Other Motorcycle: 1954 BMW R25/3
Extra Motorcycle: 1971 CB350
Eric,
I'm going to hold off on ordering one of these calipers until I can get to a Honda dealer and confirm part numbers/caliper application/color. Looking at the DN-1 caliper link you posted, it appears the caliper is either linked or anti-lock brake compatible...the NSA-700A (DN-1) has both I believe. These calipers are always gold in color in any photos I've seen.
My thought is that now that the NT-700V is available in the states, the 3 piston caliper off of one of those will work. These are non-abs bikes and the calipers appear to be a dark grey color in the few photos I've found. A link is here:
http://www.cheapcycleparts.com/model...emblies/240957
However, I don't trust this vendor to send the correct part since both the NT-700V (standard brakes) and the NT-700VA (anti-lock brakes) are listed having the same part number for the left caliper...both parts diagrams also show an extra fluid port with destination designation. Hence, the need to verify with Honda.
Cheers,
--Rich
Posting Rules

You may not post new threads

You may not post replies

You may not post attachments

You may not edit your posts

---

HTML code is Off

---