Senior Member
Grand Prix 500
Join Date: Feb 2008
Posts: 133
Best Bonneville seat(s)
---
I don't know if this is a tech question or what, so I'll just post it here...

I know this is subjective, but what's a good choice for replacing the stock Bonneville seat in terms of comfort? MADSS has a sale going on right now on Thruxton gel seats, as mentioned in another thread. It's certainly good looking but is it comfy? I have no idea but its GOT to beat the stock seat. Corbin solo seats? Do you like 'em? Triumph solo seats? Anything else? What do you like? Most of my riding is one-up so I'm considering a solo seat but wouldn't rule out a dual seat.
Depends what you want. for long distance comfort, and if you're ever riding with a passenger, the King & Queen is the best.

I rode several thousand miles on the stock seat and never understood the complaints...maybe my fat a$$ just has enough padding!

I have a thrux gel seat (got it from madss) now mainly for looks - it is very comfortable on the few short rides I have done so far - I haven't done any setious distance on it yet but I assume it will be fine.

Hedge has a solo seat and I rode his bike last summer - it is close to the K&Q in comfort but very soft (as is the K&Q) - not something I'd want for the twistys but good for long hauls.

Correction - Hedge had the scrambler solo/rack, not the bonneville solo seat.
---
adios, muchachos
---
Last edited by Mattrat; 05-21-2008 at

11:59 AM

.
Lifetime Premium
Site Supporter
SuperSport
Main Motorcycle: 2005 Bonneville T100 (B&W) - Chromed like a Harley
Join Date: Jan 2005
Location: Medina, Ohio
Posts: 1,049
For solo riding, the Triumph solo seat has worked well for me. It looks like it was designed to match the bike's lines (because it was), fits like OEM equipment (because it is), and stays comfortable for hundreds of miles/day.
Rich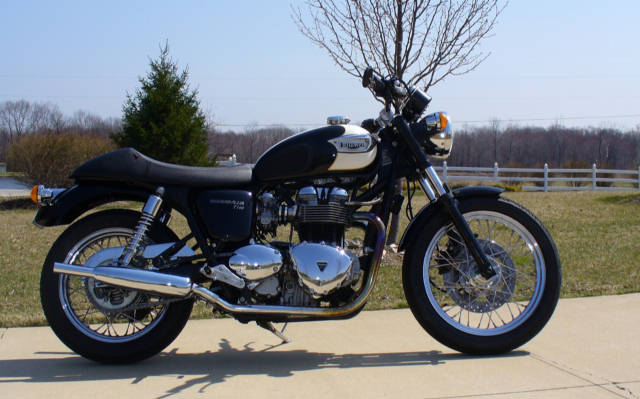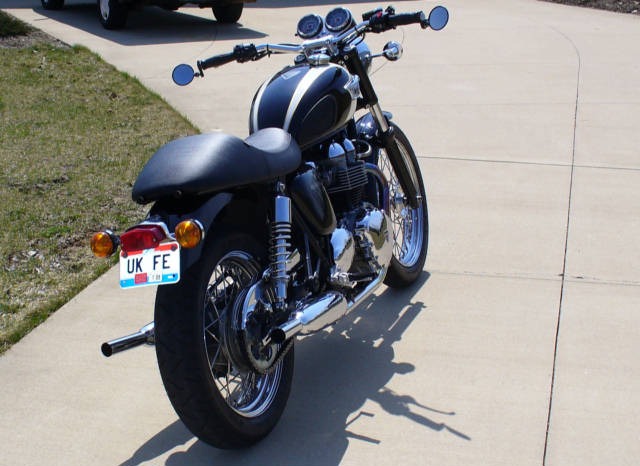 ---
"....by its very nature, a single-tracker is in unstable equilibrium, i.e., it cannot, when stationary, stand up by itself."
Senior Member
Formula Extreme
Main Motorcycle: '07 black and red T100
Join Date: Jun 2007
Location: Clearfield, Utah
Posts: 460
I have always heard that the Triumph Solo was the most comfortable, but I went with a Scrambler Gel because my dealer had one in stock and it was quite a bit cheaper than the solo. I have no complaints with the Scrambler seat and I've taken quite a few long rides with it.
Senior Member
SuperStock
Join Date: Jan 2007
Posts: 267
Solo Seat
---
I have only tried the standard and solo seat. The Triumph solo is very comfortable for short and log rides and look great on the bike.
---
Om mani padme hum doo lang doo lang shooby dooby Karma down dooby down. Let us dance to the music of compassion.
Senior Member
Supersport 600
Main Motorcycle: T100 ADV bike
Join Date: Jan 2008
Location: Springtown (Ft Worth) Texas
Posts: 181
Other Motorcycle: Rigid Sportster Chop
Extra Motorcycle: 71 Yamaha ct175
I've had three seats so far and am waiting on the fourth to arrive from MADss

stock seat, looks very nice and is great for my commuting

thruxton gel seat looked sporty, but I felt like it tipped me forward and placed pressure on my junk, causing the boys to tingle a lot.

king and queen is as comfortable as your couch, unfortunately it is super ugly. I use mine for all road trips, but run the stocker at all other times.

I currently have the Scrambler solo seat with rack on eternal backorder from MADss. I'll report when I finally get it in my hands.
---
The Adventure Commuter:
- Scrambler tank and fenders / TORs / Pelican top case and GIVI side cases / Lowered pegs / Bar risers / 19 t sprocket / Center stand / Gaiters / Renntec rack / Scrambler solo seat w/rack
Click for Picture
I have the MAS racing seat. I think it's the best looking aftermarket bonnie seat and it's surprisingly comfy.
---
2002 Bonneville custom cafe
1997 Triumph Adventurer
Senior Member
SuperStock
Join Date: Mar 2008
Posts: 212
Quote:
Originally Posted by
oldretrorider
it's cheaper at madss
---
adios, muchachos
Senior Member
Team Owner
Main Motorcycle: 07 Bonnie Black
Join Date: Jun 2007
Location: Colorado
Posts: 5,023
I was considering the Thrux gel seat, but I send a pic to my Brother and he asked an interesting question about the gel being there cuz the seat had more of a contour to it and thus needed the gel to be comfortable at all.
So....now I'm considering the Scram gel seat. (I'm so confused!!).
:
Posting Rules

You may not post new threads

You may not post replies

You may not post attachments

You may not edit your posts

---

HTML code is Off

---