Bonneville - Good First Bike?
---
I'm 24 and am looking to purchase my first bike. I have minimal riding experience (took my dad's bike out a couple of times before a truck pulled out in front of him and wrecked it). I am looking at buying new Bonneville for my first bike...Everything I have read about it seems to indicate that this would be a good choice, but just wanted some advice from folks with experience. I've always been of the opinion that if I'm going to buy something, I should go ahead and get what I want instead of buying something that will just "do."
I am planning on taking a basic rider course and taking things slowly. Any additional advice is will be greatly appreciated.
Senior Member
Supersport 600
Main Motorcycle: '03 Hinckley Bonnouvelle
Join Date: Mar 2008
Location: St Neots, UK
Posts: 176
Other Motorcycle: Jook GT1000
Both an excellent first and
last
bike - get one and save yourself a fortune by not buying the 40 or so other bikes in between them!
Senior Member
Grand Prix 500
Join Date: Dec 2006
Location: Austin, Texas
Posts: 127
Do it, Looty ! This is my second bike, I wish it were my first!
Couldn't be more perfect
---
Everything about this bike was perfect for me as a first time owner with minimal experience on friends' bikes.
Power is easily made adequate with few easy mods, seat height was perfect for my 6 foot frame, a perfect blank canvas for modding as your style sees fit, very forgiving for those new rider errors, I'm sure others may think of some reasons a Bonneville isn't a good choice but except for the weight (for some riders maybe) being a bit heavy I honestly can't think of one drawback after three years of ownership.
---
Kansas City, MO
'05 Bonnie Black
New Member
Production 125
Join Date: Mar 2008
Posts: 5
"Both an excellent first and last bike - get one and save yourself a fortune by not buying the 40 or so other bikes in between them!" - Oh how I concur. Save marriages, debt collectors and painful mishaps - go get a Bonnie.

Is Bonnie good first bike? - yep. Nuff said.
---
Last edited by DrBogenbroom; 04-01-2008 at

02:35 PM

.
Senior Member
SuperSport
Main Motorcycle: Triumph Bonuxton
Join Date: Jul 2007
Location: Atlanta
Posts: 1,010
Other Motorcycle: N/A
Extra Motorcycle: N/A
Go for it - The Bonnie was my first bike ever - zero experience on one to boot.
I love it - just be prepared to drop some change on upgrades, you'll want to lower the bars, ditch the mouse ears and do an A.I. removal and pipes..basically turning it into a hybrid between a Bonnie and Thrux...lol.
Maybe I shoulda got a Thruxton? Also, you'll enjoy riding some thing completely different.
I love the bike, it rocks!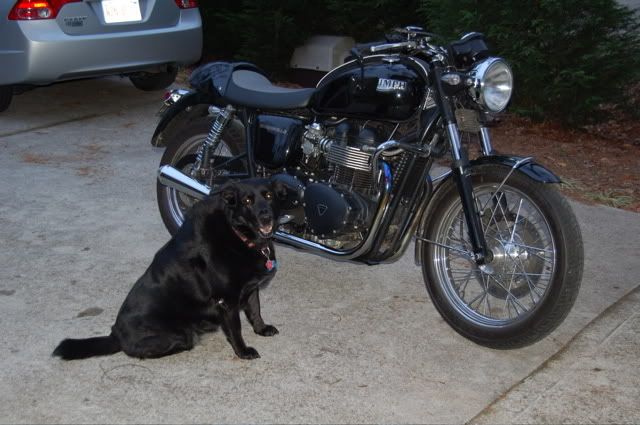 ---
Scored as a rocker!
75% rocker - 50% mod
---
Last edited by DrewDesign007; 04-01-2008 at

02:45 PM

.
New Member
Grand Prix 125
Join Date: Apr 2007
Location: Pa Mtn / coal region
Posts: 21
It's my first bike, and I could not be happier with the choice.
Senior Member
SuperBike
Main Motorcycle: 2003 Triumph T100
Join Date: Nov 2005
Location: Waldheim, LA
Posts: 1,408
Other Motorcycle: 2007 M-G Cali Vintage
The Bonneville is an excellent first bike...with just a few provisos. Bear in mind that it will be a great deal heavier than the bikes that you will use in a basic rider course. Full of fuel, a stocker goes about 485 lbs. This may not sound like much to you and if you are a strong person with decent kinesthetic ability, you'll do fine. Also, being a basic, carbureted machine you will find that it has characteristics that are a little more complicated than an automobile. Choke controls, a clutch, and more frequent maintenance are to name but a few. However, if you are willing to learn, can find a safe place to practice your initial reps, and can handle a five hundred pound machine you'll be rewarded with a satisfying and great-looking bike. I hope that you join our ranks...
---
2003 Bonneville T100 and 2007 Moto Guzzi California Vintage
Lifetime Premium
Site Supporter
World SuperBike
Main Motorcycle: Newchurch
Join Date: Mar 2008
Location: Long Beach, CA
Posts: 1,884
My first two bikes were a Yamaha 80 and Kawasaki 175 (Bushwacker). I'm glad I learned on them because I can't tell you how worthless the first was and I learned how to ride on the second. I dropped it all the time - bent pegs and brake/clutch levers (if not broken off), lost fingernails, wedged the bike under cars when driving on ice. But I also learned to ride trails and get some air. I'd hate to do all the stuff on a Bonnie. I say get yourself something cheap and disposable to start with, then get the Bonnie.
---
*
John
3-7-77
---
Last edited by Pokeyjoe; 04-01-2008 at

06:44 PM

.
I think if I wedge a bike under a car that I need to not be riding anything...
Posting Rules

You may not post new threads

You may not post replies

You may not post attachments

You may not edit your posts

---

HTML code is Off

---