Supersport 600
Main Motorcycle: T100
Senior Member
Join Date: Apr 2012
Location: United States
Posts: 180
Reshape seat
---
I have the original plank seat off my 2012 T100 that I am not using. I am considering reshapping the seat into a solo cafe seat (with hump in back). I know many people have reshapped seats themselves, and that seems fairly straight forward. So I started to think about what it would take to completely reshape it.
Has anyone done this? And if so what are your thoughts?
Should I completely remove the foam and start from a single block and just reuse the pan? Or glue additional foam on? Or?
Thanks for sharing your thoughts.
Don
Sent from my iPhone using
Motorcycle.com Free App
Moto Grand Prix
Main Motorcycle: 04 cafed Bonnie
Senior Member
Join Date: Aug 2005
Location: Toowoomba Queensland Australia
Posts: 2,628
Other Motorcycle: '68 Benelli 350'
Extra Motorcycle: '60 Morini Tresette 175
Don,
A mate of mine reshaped a Bonnie seat for his Thrux. As far as i know, he removed the seat cover, glued and shaped an extra piece of foam for the hump, he also scooped out the area where he sits, and reshaped the sides and then got it recovered. All up It cost him about $150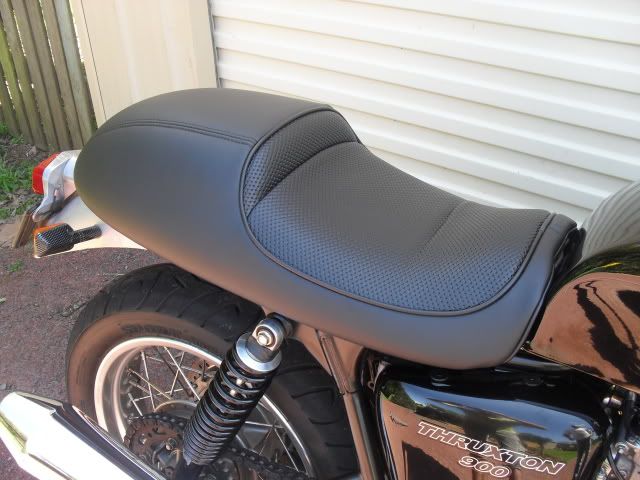 ---
"Yeah, look.....Baz just vanished, like a.....fart in a fan factory, ya`know?! ".
Supersport 600
Main Motorcycle: T100
Senior Member
Join Date: Apr 2012
Location: United States
Posts: 180
OzBon,
Is that a photo of the seat he reworked? That is about perfect for what I am looking for. Seems like a pretty easy thing to do, and I am fairly handy. Though to get the covering to look that good, I would probably have to have someone else cover the seat. Or at least sew it up. Otherwise I would probably do one piece of vinyl.
Thanks
Don
Site Supporter
SuperSport
Main Motorcycle: 2012 Bonneville Mag Wheel
Lifetime Premium
Join Date: Sep 2012
Location: SoCal
Posts: 974
Other Motorcycle: 2013 Honda CB1100
If you decide it's too much for you to attempt, Sargent seats will do the same thing for you, using your seat. They quoted me $150-$300 (sight unseen), depending on the extent of work that would be done to do what I wanted. (I found the Burton DS-001 shortly after, so never pursued it.)

ozbon, huge kudos to your friend for a bang-up job. That's an amazing looking seat.
---
"The strong survive, but the courageous Triumph."
― Michael Scott, "The Warlock"
Moto Grand Prix
Main Motorcycle: 04 cafed Bonnie
Senior Member
Join Date: Aug 2005
Location: Toowoomba Queensland Australia
Posts: 2,628
Other Motorcycle: '68 Benelli 350'
Extra Motorcycle: '60 Morini Tresette 175
Posting Rules

You may not post new threads

You may not post replies

You may not post attachments

You may not edit your posts

---

HTML code is Off

---