Member
Grand Prix 250
Join Date: Jan 2011
Location: California
Posts: 44
Member
Grand Prix 250
Join Date: Jan 2011
Location: California
Posts: 44
That's one of the nuggets I came across while searching seat height, good idea to link it here to keep this info together
Member
Grand Prix 250
Join Date: Jan 2011
Location: California
Posts: 44
Quote:
Originally Posted by
scourgeamatic
Under the seat are 8 rubber "bumpers". The center 4 bumpers can be replaced with (at least) double the thickness/height replacement bumpers from a hardware/auto parts store. Or just glue 1" additional homemade hard rubber pads right on to the existing bumpers. When you reinstall the modified seat, you must compress the rear slightly to line up the fixing bolts. One inch height increase easy and cheap.
Maybe a taller seat AND this bumper mod could really be the ticket.
You guys are really coming through with some good stuff, I've spent hours searching here and missed all of this
Senior Member
Formula Extreme
Main Motorcycle: 2007 T100
Join Date: Oct 2012
Location: Santa Margarita CA
Posts: 662
Another option is a gel seat pad that just sits (straps) on the seat. Cheap and just take it off as needed. Admittedly don't look too cool when parked but most of us are at an age we don't care that much maybe.
Senior Member
Grand Prix 500
Main Motorcycle: 2013 triumph bonneville
Join Date: Oct 2012
Location: fountain valley, ca
Posts: 103
here is a pic of the new vs old seat and the heights.
Senior Member
Grand Prix 500
Main Motorcycle: 2013 triumph bonneville
Join Date: Oct 2012
Location: fountain valley, ca
Posts: 103
my suggestion would be to look at the classified ads on the site here, and scoop up a stock taller seat.

i picked one up this week, and there was another, but it sold as well.

there are also some on ebay, but that place sucks
Senior Member
SuperBike
Main Motorcycle: 2003 Triumph T100
Join Date: Nov 2005
Location: Waldheim, LA
Posts: 1,408
Other Motorcycle: 2007 M-G Cali Vintage
Quote:
Originally Posted by
Mountain Man
How does the Solo seat compare to the original? Noticeable?

If all else fails I may end up with some sort of custom as well.
The Solo has far better foam that doesn't bunch up on long days like the stocker. However, it feels at least a half inch lower which increases the bend of my knees. I got mine from Hermy's for $240.
http://www.motorcyclestore.us/triump...nneville-t100/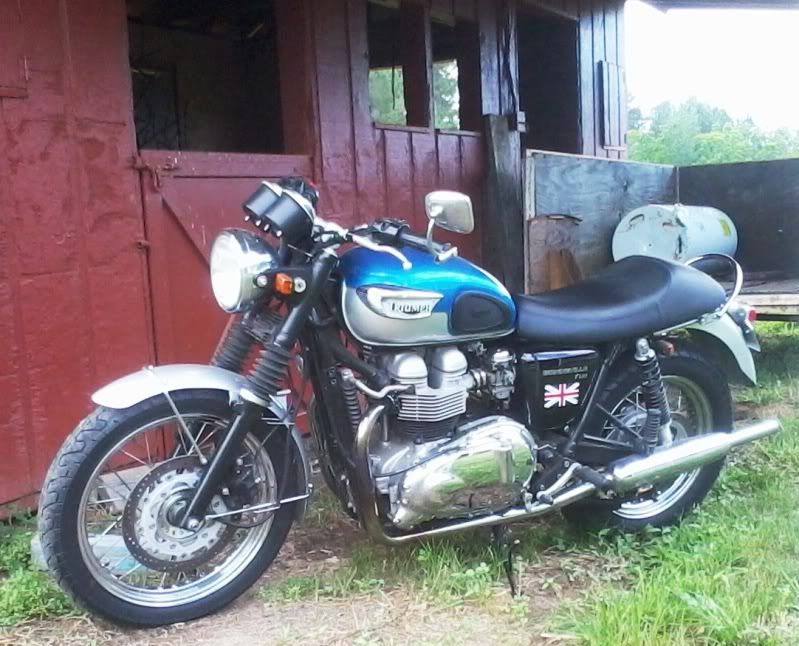 ---
2003 Bonneville T100 and 2007 Moto Guzzi California Vintage
Lifetime Premium
Site Supporter
SuperSport
Main Motorcycle: 2012 Bonneville Mag Wheel
Join Date: Sep 2012
Location: SoCal
Posts: 974
Other Motorcycle: 2013 Honda CB1100
Since that was my thread, I thought I'd weigh in here about the Burton.
I've had a chance to put several 1 - 1 1/2 hour rides in on it now, and can honestly say the comfort and support of this seat is so far removed from the stocker that it feels like a different bike. In fact, and addressing your actual question, the height issue I was initially concerned about (I have a 34" inseam) hasn't even been noticed. I can't tell you why, but the ache and stiffness I got in my knees on the stock seat hasn't happened once to me with the Burton...
Regardless of the reason (maybe just a placebo effect from being so comfortable otherwise???), I'm a pretty happy camper.
---
"The strong survive, but the courageous Triumph."
― Michael Scott, "The Warlock"
Posting Rules

You may not post new threads

You may not post replies

You may not post attachments

You may not edit your posts

---

HTML code is Off

---