Senior Member
Grand Prix 500
Main Motorcycle: Bonneville
Join Date: Apr 2012
Location: Niagara Falls, NY
Posts: 144
picture request: solo seats "cafe style" custom
---
i would like to see some of your custom seats.
got some time on my hands this winter and would like to make one.
---
2009 Yamaha TW200
2010 Toyota Tundra
2005 Triumph Bonneville Black
Senior Member
SuperBike
Main Motorcycle: '07 Black
Join Date: Nov 2008
Location: Prescott, AZ
Posts: 1,579
Though not a "custom" seat, the Corbin Gunfighter looks right at home on a cafe bike.
---
"Cognito Ergo Wrenchum"
Senior Member
Team Owner
Main Motorcycle: None don't ride anymore
Join Date: Dec 2004
Location: Tacoma,WA
Posts: 4,795
pick up an ugly but comfortable Triumph K&Q,carve it up a bit , make a simple cowl,and...
or just a light re-shaping..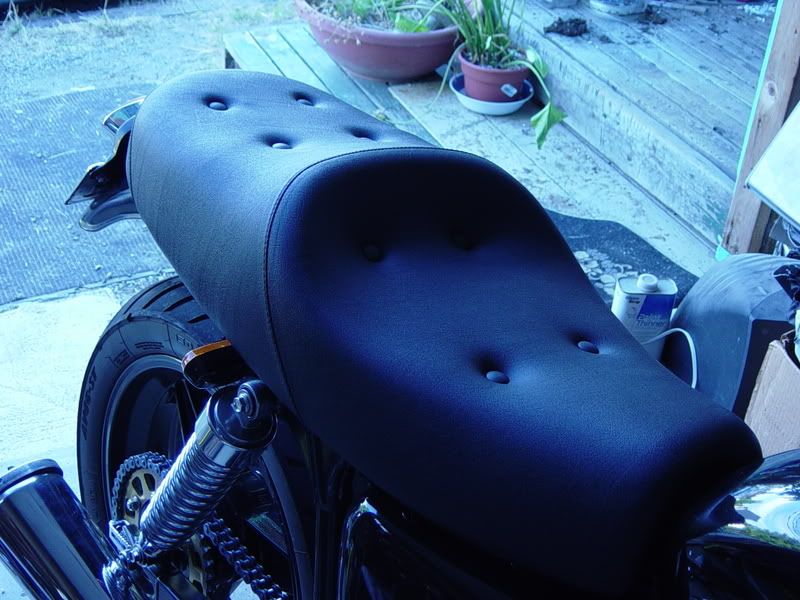 or just bend up some steel and make what you like..
---
Ruining a perfectly good Bonnie since 2004.
Senior Member
Formula Extreme
Main Motorcycle: 2012 Blue/White Bonnie SE
Join Date: Aug 2012
Location: Columbia, MD
Posts: 869
Other Motorcycle: 2013 Ninja 1000
Extra Motorcycle: 2012 Yamaha FZ8
Here's my 2012 Bonnie SE with a Corbin Gunfighter.
Lifetime Premium
Site Supporter
Nova
Main Motorcycle: 2009 Bonneville SE
Join Date: Jun 2009
Location: Asturias, Spain
Posts: 19,425
Other Motorcycle: Yamaha XV1100
Extra Motorcycle: Qingqi QM200GY-BA
Senior Member
Grand Prix 500
Main Motorcycle: 2013 triumph bonneville
Join Date: Oct 2012
Location: fountain valley, ca
Posts: 103
as much as what i am going to show you did not take place on my bonneville, the principles and procedures are the same.
http://www.advrider.com/forums/showt...=village+idiot
went from
to this
Senior Member
Grand Prix 500
Main Motorcycle: thruxton
Join Date: Sep 2011
Location: Los Angeles
Posts: 115
Quote:
Originally Posted by
Forchetto
The black cowl with brown seat is beautiful! Only thing is price, more than $500 US dollars
Senior Member
Moto Grand Prix
Main Motorcycle: 04 cafed Bonnie
Join Date: Aug 2005
Location: Toowoomba Queensland Australia
Posts: 2,613
Other Motorcycle: '68 Benelli 350'
Extra Motorcycle: '60 Morini Tresette 175
My '68 Wards,
A bit of foam, 5 ply and some glue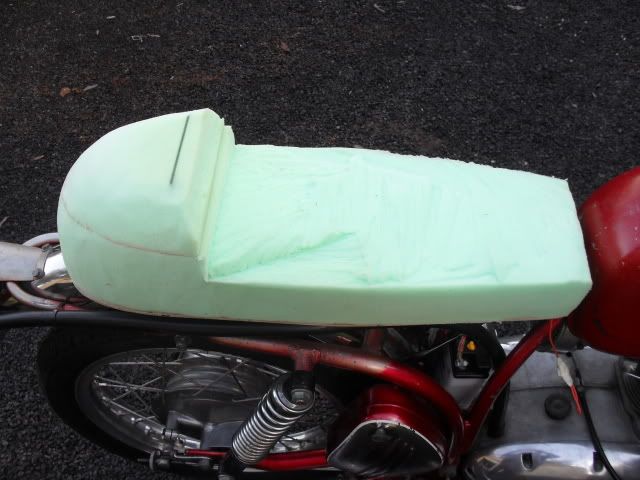 Airtech cafe seat and Tail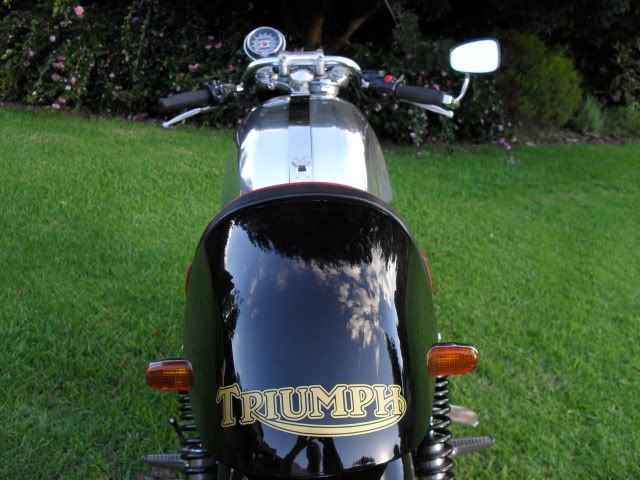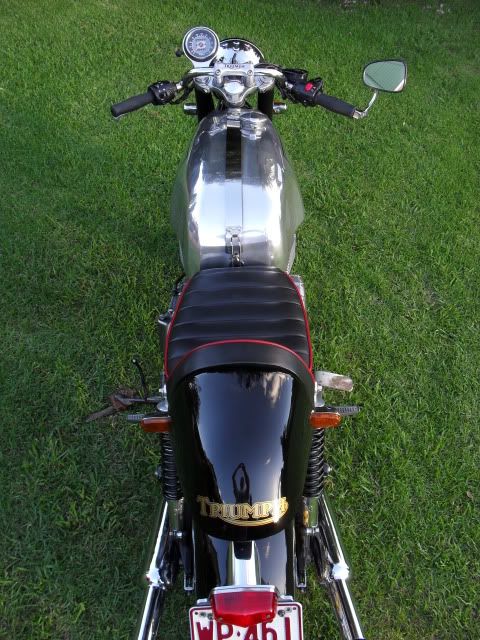 A friend of mine reshaped a stock Bonneville seat for his Thrux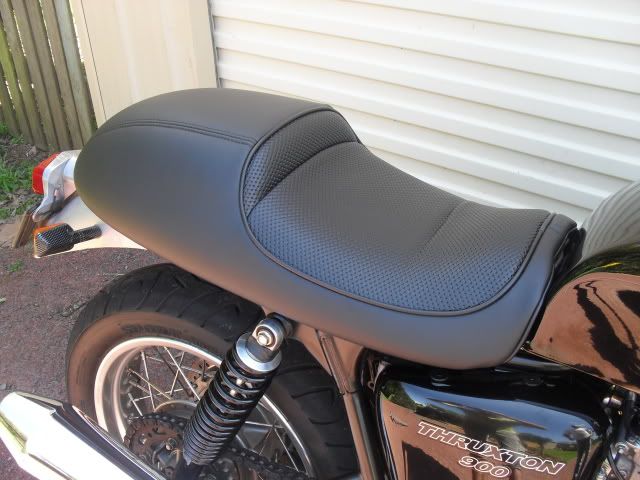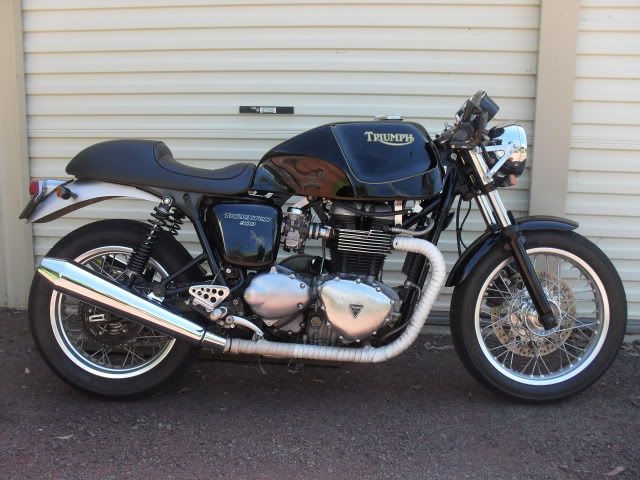 ---
"Yeah, look.....Baz just vanished, like a.....fart in a fan factory, ya`know?! ".
---
Last edited by ozbon; 11-17-2012 at

11:48 AM

.
Lifetime Premium
Site Supporter
SOTP Vintage Series
Main Motorcycle: 2006 Thruxton
Join Date: Jan 2009
Location: Sydney, Australia
Posts: 6,867
Other Motorcycle: 1971 T120
Extra Motorcycle: Ossa 6 day replica
this is mine on my '71 Bonnie.
started as a 'cafe' seat bought from Vietnam on ebay.
I reshaped the foam to get it closer to what I wanted.
Still not 100% happy with it but getting there. I intend doing a little more shaving here and there to make it exactly right for my eye. Still a little 'fat' at the back:
---
Aunty Mabel
Senior Member
SuperBike
Main Motorcycle: 2003 Triumph T100
Join Date: Nov 2005
Location: Waldheim, LA
Posts: 1,408
Other Motorcycle: 2007 M-G Cali Vintage
I got a screaming deal on a Triumph solo seat from Hermy's back in '05. The seat level is a tad lower and the foam is much better than used on the oem seat.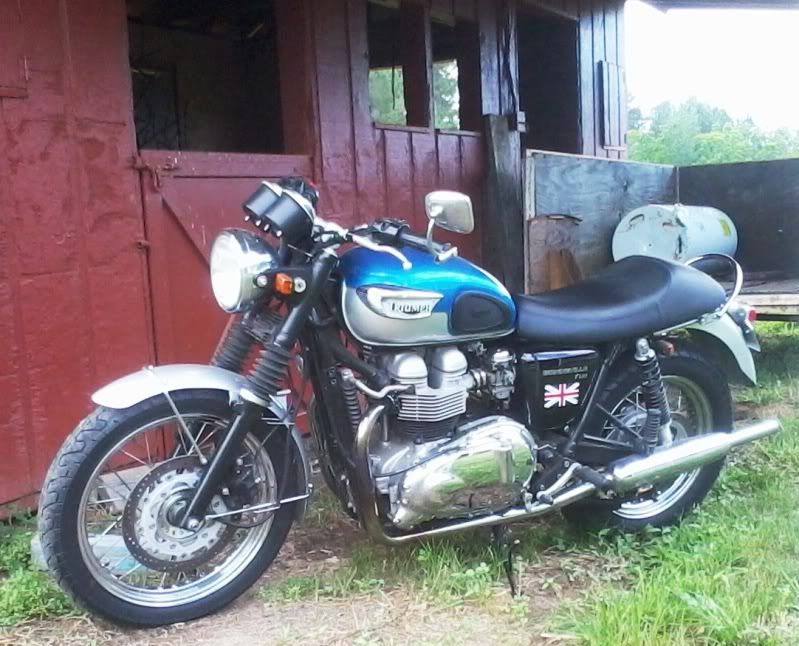 ---
2003 Bonneville T100 and 2007 Moto Guzzi California Vintage
Posting Rules

You may not post new threads

You may not post replies

You may not post attachments

You may not edit your posts

---

HTML code is Off

---