Grand Prix 500
Main Motorcycle: 2010 T-100 w/ Sidecar
Senior Member
Join Date: Jul 2010
Location: Ohio
Posts: 106
Site Supporter
Nova
Main Motorcycle: 2009 Bonneville SE
Lifetime Premium
Join Date: Jun 2009
Location: Asturias, Spain
Posts: 19,713
Other Motorcycle: Yamaha XV1100
Extra Motorcycle: Qingqi QM200GY-BA
Quote:
Originally Posted by
Emanthehorse
Just so you know, a bandanna (or anything really, duct tape works well) wrapped around the forks as close to the tire as you can get it, makes for a good device to keep the water spray off your face when riding fenderless in the rain.
Fascinated by the bandana alternative, I Googled it to find full, illustrated instructions...not keen on it though:
http://motorheadster.blogspot.com.es...na-fender.html
World SuperBike
Main Motorcycle: '17 Thrux R
Senior Member
Join Date: May 2011
Location: Maple Ridge, B.C., Canada
Posts: 1,953
Other Motorcycle: '02 Bonnie
I damaged my fender and recently cut it out of necessity, with a bit of black pin stripe decal to hide the chrome nicks. The chopped chrome fender is now roughly the size of a Thrux fender. I'll withold judgment until I see how it looks and functions on the bike, but I still have the stocker and I'm getting a brand new full sized chrome one from insurance anyway.
I'm not too worried about rain, because I rarely ride in it, but I don't like the idea of getting me or my engine sandblasted. Anybody know from experience how well a chopped fender functions?
BTW and FWIW, I think a Bonne without a fender looks wrong, and I will
not
be using the bandana method
.
Site Supporter
Commentator
Main Motorcycle: 2007 Bonneville
El Moderatore
Join Date: Dec 2007
Location: Sherwood Park, Alberta Canada
Posts: 8,203
Other Motorcycle: 2007 Kawasaki Versys
Hey Steve,
I have a fender that i chopped as well and used on the gold/black bike. It looks great on a 19" front wheel but it doesn't kep the rain off like the full fender. The engine doesnt get sand blasted as he water is directed downwards but it does get more exposure than the full fender.
World SuperBike
Main Motorcycle: 2016 Triumph T120
Senior Member
Join Date: Nov 2006
Location: West of the Pecos, TX USA
Posts: 1,811
Other Motorcycle: 2007 Ducati GT1000
Extra Motorcycle: 2003 Triumph T100
Gee, could it be that the fender serves a purpose, maybe even an important purpose?
---
Photo: Ducati GT1000 at Utah's Bonneville Salt Flats
Minitwins
Main Motorcycle: 2013 Bonneville T100
New Member
Join Date: Oct 2012
Location: Torrance, CA
Posts: 20
Grand Prix 250
Main Motorcycle: 2011 Bonne Black T100
Member
Join Date: Jan 2012
Location: Los Angeles
Posts: 42
Quote:
Originally Posted by
SouthBayRay
Now what kind of a world would we live in if we left all the parts on bikes that served important purposes?
I like your way of thinking...
Sent from my iPhone using
Motorcycle.com Free App
Supersport 400
Main Motorcycle: 2012 Triumph Bonneville
Member
Join Date: Mar 2012
Location: Michigan
Posts: 92
I rode most of last season with just the fender brace and only noticed the extra crud thrown around an lower speeds. Riding slow on wet roads you notice a bit more splash but at speed there is very little difference. I'm in the process of cutting my fender down to a stubby and see if I like it when the weather turns again.
No front mudguard on my Speedmaster bobber. Looking at the bracket, it's so solid it obviously acted as a brace, I decided to trim off the mudguard mounting lugs, rub it down, polish it and here it is back from being zinc plated...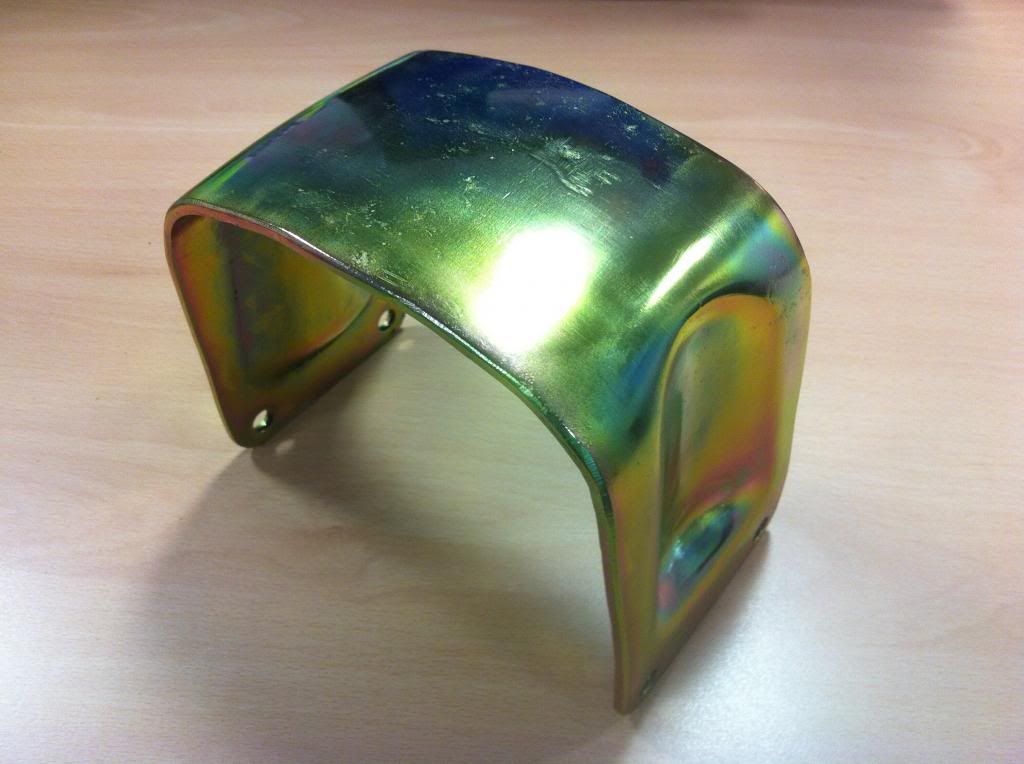 I'm going for a vintage bobber look with more brass and copper than chrome.
SuperBike
Main Motorcycle: My Desert Sled
Senior Member
Join Date: Feb 2008
Location: Burton, Christchurch, Dorset
Posts: 1,429
Mine is off....dont do it!! lol
Posting Rules

You may not post new threads

You may not post replies

You may not post attachments

You may not edit your posts

---

HTML code is Off

---