Senior Member
Formula Extreme
Main Motorcycle: Thruxton Bonneville EFI
Join Date: Jan 2011
Location: Cambridge
Posts: 444
Jack Pine
TpR_Urban_Scrambler
MecatwinTHRUXTON GT
Mecatwin SCRAMBLER
Mecatwin BONNEVILLE SPECIAL
Mecatwin ASCOT TT
Mecatwin 800 RACER
Mecatwin 800 TRACKER
Senior Member
Formula Extreme
Main Motorcycle: Thruxton Bonneville EFI
Join Date: Jan 2011
Location: Cambridge
Posts: 444
Mecatwin THRUXTON SS
Mecatwin SPRINGFIELD
Jack Lilley 50th Anniversary Bonneville
Jack Lilley special Triumph Scrambler
Jack Lilley Evel Knievel edition Triumph Scrambler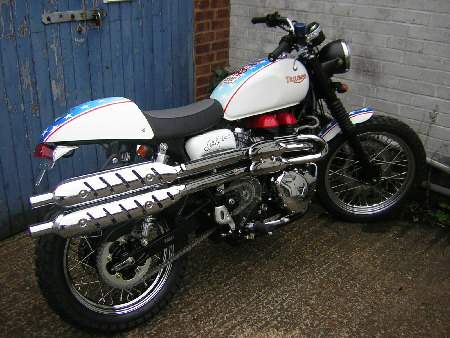 BELLACORSE
drags & Racing
Emaychee's hillclimber
Parma goldenboy
Dan Anderson
Senior Member
Formula Extreme
Main Motorcycle: Thruxton Bonneville EFI
Join Date: Jan 2011
Location: Cambridge
Posts: 444
Deus Triumph Bonneville
Roberto Rossi
scrambler matt black special
TAG Heuer and Triumph Special Edition Bonneville
rossonera
Métisse Desert Racer
Senior Member
Team Owner
Main Motorcycle: '08 Moto Guzzi 1200 Sport
Join Date: May 2005
Location: Hudson, Ohio - USA
Posts: 5,519
Other Motorcycle: 2012 Griso - SOLD
Extra Motorcycle: 1991 BMW R100GS
Great pics! I'd conclude I liked one best, then scroll to another, and totally change my mind. Thanks for posting.

Bob
---
GBNF: 03 T100 Luc Org and Silv: 122/42 jets, TORs, 18T, UNI filter, no AI, Polaris bellmouth, Metz 880 tires, Prog. 440 shocks (105/150 springs), 11-1124 frk springs, Thrux frk caps, gaiters, MotoTwin bars, 6024 lamp, htd grips, 12v outlet.
Senior Member
Moto Grand Prix
Main Motorcycle: Trident 750
Join Date: Mar 2010
Location: West Wales, UK
Posts: 3,157
Other Motorcycle: Yamaha XT660R
Extra Motorcycle: Yamaha XT600E
That Mecatwin Springfield (yellow one in post 5) is the horniest thing I have seen in ages. And that includes the pic with the chick in.

Very, very nice.
---
1994 Trident 750 (the rolling project)
2006 Yamaha XT660R (the daily ride)
1995 Yamaha XT600E (the resto project)
2002 Sprint ST 955i, 2005 Bonneville (now sold)
www.goingfastgettingnowhere.blogspot.com
El Moderatore
Site Supporter
Commentator
Main Motorcycle: 2007 Bonneville
Join Date: Dec 2007
Location: Sherwood Park, Alberta Canada
Posts: 8,203
Other Motorcycle: 2007 Kawasaki Versys
Meccatwin 800cc racer is absolutley one of my favorites.
Senior Member
SuperStock
Main Motorcycle: 07 Scrambler
Join Date: Jul 2008
Location: 30677
Posts: 214
New Member
Minitwins
Main Motorcycle: triumph & ducati
envy
---
These pictures make me green with envy.
Senior Member
Formula Extreme
Main Motorcycle: 2013 StormBird
Join Date: Jan 2009
Location: Indian Harbour Beach FL
Posts: 668
Other Motorcycle: 2007T-100Black/Red(Hers)
Extra Motorcycle: 2009 Scrambler
Great pics!!!!!!!! Thanks!!!
---
2013 Storm
Posting Rules

You may not post new threads

You may not post replies

You may not post attachments

You may not edit your posts

---

HTML code is Off

---