Senior Member
Supersport 600
Main Motorcycle: 08 Bonneville T-100
Join Date: Jan 2010
Location: Iowa
Posts: 157
Extra Motorcycle: 1982 CBX
Craig Vetter Bonneville TT
---
Senior Member
SOTP Vintage Series
Main Motorcycle: 2007 Thruxton Bonneville
Join Date: Mar 2004
Location: B'ham UK
Posts: 7,994
Other Motorcycle: BSA Starfire 1968
Extra Motorcycle: 1930 Triumph NSD.
Great article but I'm not liking his TT. As an attempt to get back to the spirit of the 68-70 Bonnie it fails big time. In fact what Meriden did with the OIF later in the export models looks far better.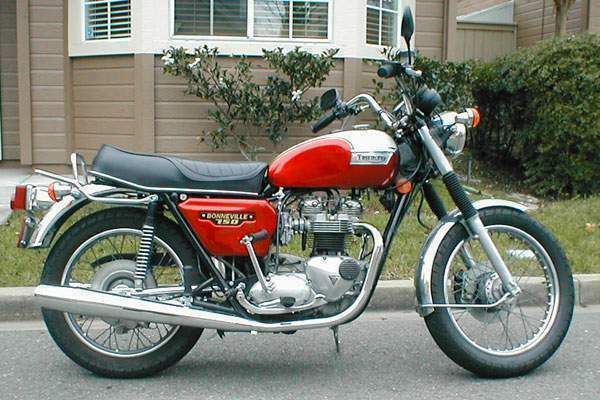 ---
Be who you are and say what you feel because those who mind don't matter and those who matter don't mind......Dr Seuss
Lifetime Premium
Site Supporter
Supernova
Main Motorcycle: '08 Triumph Bonneville
Join Date: Nov 2007
Location: I'm living in my own private Pittsburgh
Posts: 22,638
Other Motorcycle: '65 Ducati 350 Sebring
Extra Motorcycle: '14 Triumph Thruxton 900
Yeah, I agree, Nick. I don't really care for Vetter's designs, period. That Bonnie TT just looks...weird.
---
"It's a great day for hockey" - "Badger" Bob Johnson

Sometimes you just have to go out to the beaver dam with a machete and start chopping wood
Senior Member
Grand Prix 500
Main Motorcycle: 03 Triumph Speedmaster
for what they are, i can appreciate Vetter's designs, especially the Hurricane (gorgeous, in my opinion). but as an attempt to regain Triumph's glory days, he went further away from the target than Triumph did. terrible.
---
If you choose to be sheep, you can't cry when the wolves come.
Posting Rules

You may not post new threads

You may not post replies

You may not post attachments

You may not edit your posts

---

HTML code is Off

---